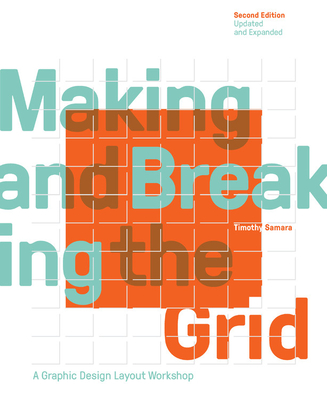 Making and Breaking the Grid, Second Edition, Updated and Expanded (Paperback)
A Graphic Design Layout Workshop
Rockport Publishers, 9781631592843, 240pp.
Publication Date: July 1, 2017
* Individual store prices may vary.
Description
Effective layout is essential to communication and enables the end user to not only be drawn in with an innovative design, but to digest information easily. Making and Breaking the Grid is a comprehensive layout design workshop that assumes that in order to effectively break the rules of grid-based design, one must first understand those rules and see them applied to real-world projects.

Basics include composing typographic space, format determination, and sequencing and systemization. Various types of grids manuscript, column, modular, hierarchical are also covered.

Text reveals top designers' work in process and rationale. Projects with similar characteristics are linked through a simple notational system that encourages exploration and comparison of structure ideas. Each project is shown comprehensively so readers can see its structure revealed over several pages, at a size that allows for inspection of detail.

Also included are historical overviews that summarize the development of layout concepts, both grid-based and non-grid based, in modern design practice.
About the Author
Timothy Samara is a graphic designer based in New York City, where he divides his time between teaching, writing, lecturing, and consulting through STIM Visual Communication. His 18-year career in branding and information design has explored projects in print, packaging, environments, user interface design, and animation. He has been a senior art director at Ruder Finn, New York's largest public relations firm, and senior art director at Pettistudio, a small multidisciplinary design firm. Before relocating to Manhattan, he was principal of Physiologic in Syracuse, located in upstate New York. In 1990, he graduated a Trustee Scholar from the Graphic Design program at the University of the Arts, Philadelphia. Mr. Samara is a faculty member at New York's School of Visual Arts, New York University, Purchase College/SUNY, and The New School, and has published six books on design and typography, all through Rockport Publishers: Making and Breaking the Grid; Typography Workbook; Publication Design Workbook; Type Style Finder; Design Elements, Design Evolution, and, most recently, Letterforms, released in September, 2018. Mr. Samara and his partner live in the Williamsburg neighborhood of Brooklyn.