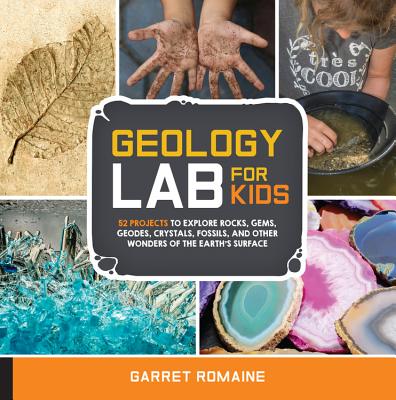 Geology Lab for Kids
52 Projects to Explore Rocks, Gems, Geodes, Crystals, Fossils, and Other Wonders of the Earth's Surface
Paperback

* Individual store prices may vary.
Praise For Geology Lab for Kids: 52 Projects to Explore Rocks, Gems, Geodes, Crystals, Fossils, and Other Wonders of the Earth's Surface…
"This companion to Outdoor Science Lab for Kids and Astronomy Lab for Kids is structured around more than 50 experiments…It's a smart, hands-on way for kids to get a better understanding of the rock cycle, volcanism, and the formation and breakdown of rocks and minerals." – Publishers Weekly

"Fifty-two projects all based around the Earth will keep kids entertained while learning some basic concepts of geology...Each lab contains a delineated box of additional information focused on the science behind the fun...This title presents investigations into the world of geology in fun, simple, and, at times, delectable ways." - Eileen Wright, Reference Librarian, Montana State University Billings Library, Billings, Montana for a Recommended Review, School Library Connection

"As a dad, I love to find fun things that I can do with my girls that are easy to create but also educate my kids without them knowing that they are learning (Sneaky!!). This book allows you to do this. You can have a blast with your kids through the large number of activities presented in the book. Best of all, for the most part I found that I had most of the supplies needed for the activities." - Christopher Lewis, Dad of Divas blog

"Explore the wonders of earth science through 52 activities. A technical writer and longtime rock hound invites young readers to learn about geology through hands-on projects, many of which involve models that double as tasty treats. The introduction includes a spread of labeled rock samples. Opening with a simple activity to demonstrate crystal formation using supersaturated sugar water, author Romaine goes on to explore rock characteristics, molten rock (lava), sediments, metamorphosis, entropy, our active planet, fossils, precious metals, space rocks, and rocks in art. Each chapter begins with a spread of explanation opposite a full-page photograph of the natural phenomenon under discussion. Each lab includes a list of materials, step-by-step instructions, some safety tips and enrichment suggestions, and a boxed explanation of "the science behind the fun." Each is illustrated with photos of the activity in progress, often including young experimenters (a diverse group of boys and girls) clearly enjoying their experience. The materials called for are simple and easily available. The time involved ranges from a few minutes to several days. Specialized vocabulary is defined in context. The author has spent many years doing geology with kids; his projects have obvious child-appeal. This well-thought-out collection includes many demonstrations familiar to science educators as well as some engaging new ones and would be a welcome addition to any library. Dig in for fun and learning, too!" - Kirkus Reviews

"Rocks,rocks, and MORE ROCKS.  Every child at one time or another has had a rock collection that he/she thought was absolutely wonderful. Did they know what types of rocks they had or what they were made of? Probably not. All they cared about was that they were their special rocks. This book answers those questions and more. It is written by a college professor who is also a rock hound...The goal of the book is "to understand the world we live in and to actively engage children in creative activities that reveal the larger world at work." Each unit is introduced with a beautiful photograph illustrating part of the goal for that unit plus an enticing description of what will be in that unit.  Units range from two to six labs long, starting with simpler concepts and moving to more complex." - Jacqueline Pfeiffer, 3rd Grade Teacher for National Science Teachers Association (NSTA) Recommends
Quarry Books, 9781631592850, 144pp.
Publication Date: July 1, 2017
About the Author
Garret Romaine has been an avid rockhound, fossil collector, meteorite hunter, and gold prospector for many years. He is a long-time journalist, columnist, instructor, and writer, and currently teaches at Portland State University. He holds a degree in geology and a degree in geography, and is the author of many books on rock & gem collecting and identification, gold panning, geology, and the outdoors, including The Modern Rockhounding and Prospecting Handbook and Geology Lab for Kids. Garret is a member of the Board of Directors for the North America Research Group, dedicated to amateur fossil collecting, and the Rice NW Museum of Rocks and Minerals, which houses one of the finest mineral collections in the US. He is also a member of numerous rockhounding and gold prospecting organizations.