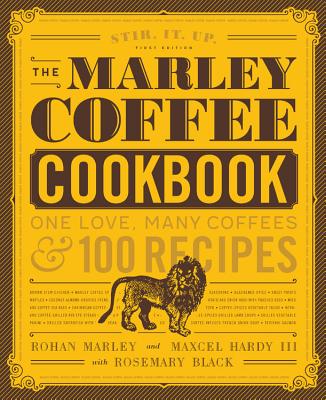 The Marley Coffee Cookbook (Hardcover)
One Love, Many Coffees, and 100 Recipes
Quarry Books, 9781631593116, 208pp.
Publication Date: August 15, 2017
* Individual store prices may vary.
Description
From Bob Marley's son, Rohan Marley, and expert chef, Maxcel Hardy, comes The Marley Coffee Cookbook. This collection of recipes infuses incredible recipes with coffee for something truly unique. 

Rohan Marley kicks off each chapter of The Marley Coffee Cookbook with anecdotes about growing up as the son of legendary musician Bob Marley, who to this day is revered by music lovers young and old. The chapter One Love, for instance, begins: "One Love is one of my father's biggest songs, and I wanted the coffee that I named One Love not just to be a standout single origin coffee, but to really resonate with people."
Chef Maxcel Hardy's flawless recipes and expert guidance on the best way to infuse a dish with coffee flavor make this book a very special addition to any cookbook collection. Hardy speaks to the importance of choosing a particular coffee to harmonize with certain foods, and he shows how easy it is to use coffee in a way that it brings out the best in everything from savory dishes to sweet treats.
There's a strong coffee connection for each dish, whether it is infused with a mocha theme or it rocks an espresso flavor. These are dishes you won't find anywhere else, to name a few:
Sweet potato waffles with a pecan coffee syrup
Grilled salmon with a coffee maple, and ginger glaze
Fried plantains with coffee sugar
Coffee spice blend-marinated lamb ribs with guava BBQ sauce
Grab 
your copy
 of 
The Marley Coffee Cookbook
 today, and try out these incredible foods that truly
carry on the soul
of Bob Marley.
About the Author
The founder of Marley Coffee and the son of legendary musician and visionary Bob Marley, Rohan Marley decided to follow his father's dream of becoming a farmer. He bought 52 acres of land in Jamaica's Blue Mountains in 1999. In 2007, he founded Marley Coffee, a business with annual sales that have increased from $300,000 to $14 million in just a few short years.
Marley, who is committed to supporting clean water initiatives and giving back to communities where Marley Coffee sources coffee, is an ambassador to Water Wise Coffee Project, which works to improve water access, protection, and cleanliness in coffee-producing countries around the world.
As chairman of the Marley family businesses, Marley also oversees other family brands such as Tuff Gong Caribbean Distributors LLC, MF Pictures LLC, Tuff Gong Records LLC, Hope Road Merchandising LLC, and Zion Roots Wear LLC. Marley is committed to continue his father's dream of spreading One Love to the world.
Founder of Chef Max Miami, a premier catering company that specializes in American, Asian, Caribbean, French, and kosher cuisine, Maxcel Hardy III cooks for award-winning hip hop and R&B artists, professional athletes, and dignitaries like the Prince of Dubai and the Prime Minister of Turks and Caicos. Formerly the full-time personal chef for the acclaimed New York Knicks forward Amar'e Stoudemire, he also is the creator of Chef Max Designs, a line of chef's apparel that puts a modern style on classic chef uniforms.
A philanthropist and founder of the One Chef Can 86 Hunger foundation, a not-for-profit organization that works to raise awareness of the hunger epidemic in the United States, Hardy is on the board of directors for the Opportunity Charter School in New York City. In 2014, Hardy joined the Culinary Council for Food Bank for New York City as an advocate to carry out its mission and fight hunger. He finished as a runner-up for The Food Network's Chopped and has been featured in Arise TV, Bon Appétit, Essence Magazine, Fox 5 Good Day New York, NBC's thegrio.com, the New York Post, MSNBC's Melissa Harris-Perry Show and WABC News.
As the longtime food editor of the New York Daily News, Rosemary Black supervised nutrition and food coverage. Black has been a senior editor at Everyday Health, a leading digital media company that produces content on health and wellness. She is currently an Everyday Health contributor, reporting on medical news, health, and nutrition. Rosemary has also been the food editor of Dash, a monthly cooking magazine from Parade magazine.
She is the author of four other books: Cookies Year-Round (2007), The Kids' Holiday Baking Book (2003), Cooking with Joy (2003, co-written with nationally acclaimed nutrition expert Joy Bauer), and Bubby's Brunch (2009, co-written with Bubby's restaurant founder and owner Ron Silver.)
Praise For The Marley Coffee Cookbook: One Love, Many Coffees, and 100 Recipes…
"If you love coffee this book is for you"
- The Gourmet Gays
"This is a true celebration of coffee-infused cuisine!"  
"Chef Maxcel Hardy's flawless recipes, his imagination and expertise in the kitchen make this a very special addition to any cookery book library." 
- Marie Rayner, The English Kitchen blog
"A delightful and delicious cookbook of coffee-infused recipes" 
"easy-to-follow book" 
"These are recipes that work – work a treat" 
"One love, many coffee-based dishes to feed you and your soul" 
"lavishly illustrated book of coffee-infused soul food" 
- Les Scott, BBC Radio Stoke
"This is a true celebration of coffee-infused cuisine, making it a must-have for the quintessential coffee lover"
 
- Roberta Briffa, Chorizo & Thyme blog