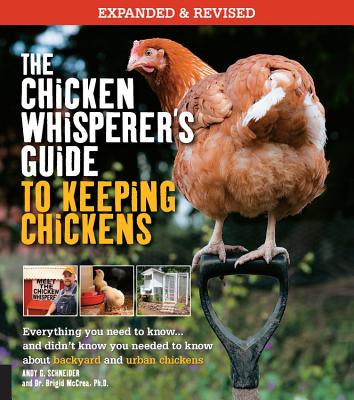 The Chicken Whisperer's Guide to Keeping Chickens, Revised (Paperback)
Everything you need to know. . . and didn't know you needed to know about backyard and urban chickens
Quarry Books, 9781631593123, 184pp.
Publication Date: July 15, 2017
Other Editions of This Title:
Paperback (9/1/2011)
* Individual store prices may vary.
Description
The down-to-earth, common-sense advice in The Chicken Whisperer's Guide to Keeping Chickens, Expanded & Revised is perfect for people looking to get started keeping backyard poultry.

Since The Chicken Whisperer's Guide to Keeping Chickens was first published in 2011, tens of thousands of people have discovered the joys and benefits of a backyard flock. Now Andy Schneider is back with The Chicken Whisperer's Guide to Keeping Chickens, Expanded & Revised.
Are you looking for a great way to reconnect with the earth, the community, and your food sources? Keeping backyard chickens is a fun, simple way to start making this happen, even with limited space in your backyard. Let the Chicken Whisperer (poultry personality Andy Schneider) teach you everything he knows and everything you need to know about raising a backyard flock!

Ditch the super-technical manuals and enjoy Andy's unique, common-sense perspective in The Chicken Whisperer's Guide to Keeping Chickens, Expanded & Revised. This fun, comprehensive guide is a perfect fit for your busy lifestyle.
Inside, you'll learn:
The benefits of a backyard chicken flock
The art of incubation
Living with brooding hens
Setting up coops and runs
Proper poultry nutrition
Understanding your chickens' health and wellness
And that's just for a start, so why not start your flock today?
About the Author
Andy Schneider, better known as the Chicken Whisperer, has become the go-to guy for anything chickens. Over the years, he has helped a countless number of people start their very own backyard flocks. He is not only a well-known radio personality, as host of the Backyard Poultry with the Chicken Whisperer radio show, but also the author of the books The Chicken Whisperer's Guide to Keeping Chickens, Chicken Fact or Chicken Poop, and The Chicken Whisperer's Guide to Zero Waste Chicken Keeping and a contributor for Mother Earth News, Grit magazine, and Farmers' Almanac. He is the national spokesperson for the USDA-APHIS Bio-Security for Birds Program and the Founder/Organizer of the Atlanta Backyard Poultry Meetup Group and many other Meetup Groups around the United States. He has been featured on CNN, HLN, Fox, ABC, CBS, NBC, and NPR, as well as in The Wall Street Journal, Time magazine, The Economist, USA Today, New Life Journal, and other local and national publications. Andy has also been traveling around the US on the Chicken Whisperer Tour, educating people about the many benefits of keeping a small backyard flock of chickens. Andy and his wife Jen keep 35 chickens on their property just north of Atlanta, Georgia. Visit him online at www.chickenwhisperer.com.
Brigid A. McCrea, PhD, is a native of California and grew up both in Los Angeles and Silicon Valley. She was introduced to farming through her local 4-H club and began her lifelong love of chickens by participating in poultry shows. Brigid pursued her interest in poultry science and cooperative extension through undergraduate and graduate research. She earned a BS and MS in avian sciences from University of California Davis and a PhD in poultry science from Auburn University. 

After completing her graduate program, she served as a post-doctoral researcher at the University of California Davis with Dr. Francine Bradley. She gained valuable extension experience by participating in the execution of the Game Fowl Health Assurance Program, as well as the Poultry Health Inspection program. She took a position at Delaware State University in Dover, Delaware, where she was Assistant Professor and Extension Poultry Specialist. In that position, her efforts were aimed at meeting the needs of small flock and niche market poultry producers.

At Auburn University, she works as an extension specialist with 4-H Youth Development in the Alabama Cooperative Extension System. She is providing leadership over all the animal programs in the state, as well as developing or revising curriculum to meet the needs of the programs. She enjoys working with the thousands of youth in the state that have an interest in, and participate in, animal programs, including programs such as 4-H Chick Chain.

She is co-author of The Chicken Whisperer's Guide to Keeping Chickens and The Chicken Whisperer's Guide to Zero Waste Chicken Keeping and contributing author of Chicken Fact or Chicken Poop, a regular contributor to the Plain Talk column in the Chicken Whisperer magazine, and a regular guest speaker on the Backyard Poultry with Andy the Chicken Whisperer radio show.