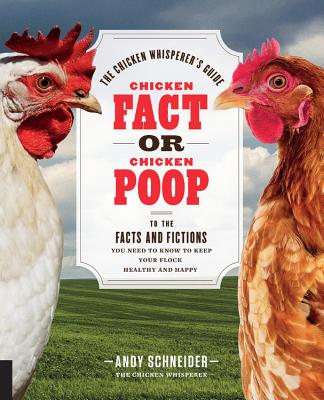 Chicken Fact or Chicken Poop (Paperback)
The Chicken Whisperer's Guide to the facts and fictions you need to know to keep your flock healthy and happy
Quarry Books, 9781631593154, 136pp.
Publication Date: December 26, 2017
* Individual store prices may vary.
Description
Chicken Fact or Chicken Poop is a science-rooted, fact-based, and study-reinforced manual designed to help you weed through the facts and fictions about your flock.

Chicken keepers have access to more information than ever these days, which makes it harder than ever to determine whether what you're reading is a chicken fact or just plain chicken poop. A seemingly reputable blog may tell you one thing while a magazine could say the complete opposite! A farmer may give some homespun wisdom that another may say is complete phooey.

This is where Andy Schneider, the Chicken Whisperer, comes in. Schneider has assembled a team of leading chicken experts to help you sort through common facts and fictions about how to keep your flock happy and healthy.

Chicken Fact or Chicken Poop covers topics including nutrition, trauma, parasites, medication, predators, and human health. This go-to reference gives you more of everything you need to know, and didn't know you needed to know, about backyard and urban chickens.
About the Author
Andy Schneider, better known as the Chicken Whisperer, has become the go-to guy for anything chickens. Over the years, he has helped a countless number of people start their very own backyard flocks. He is not only a well-known radio personality, as host of the Backyard Poultry with the Chicken Whisperer radio show, but also the author of the books The Chicken Whisperer's Guide to Keeping Chickens, Chicken Fact or Chicken Poop, and The Chicken Whisperer's Guide to Zero Waste Chicken Keeping and a contributor for Mother Earth News, Grit magazine, and Farmers' Almanac. He is the national spokesperson for the USDA-APHIS Bio-Security for Birds Program and the Founder/Organizer of the Atlanta Backyard Poultry Meetup Group and many other Meetup Groups around the United States. He has been featured on CNN, HLN, Fox, ABC, CBS, NBC, and NPR, as well as in The Wall Street Journal, Time magazine, The Economist, USA Today, New Life Journal, and other local and national publications. Andy has also been traveling around the US on the Chicken Whisperer Tour, educating people about the many benefits of keeping a small backyard flock of chickens. Andy and his wife Jen keep 35 chickens on their property just north of Atlanta, Georgia. Visit him online at www.chickenwhisperer.com.
Brigid A. McCrea, PhD, is a native of California and grew up both in Los Angeles and Silicon Valley. She was introduced to farming through her local 4-H club and began her lifelong love of chickens by participating in poultry shows. Brigid pursued her interest in poultry science and cooperative extension through undergraduate and graduate research. She earned a BS and MS in avian sciences from University of California Davis and a PhD in poultry science from Auburn University. 

After completing her graduate program, she served as a post-doctoral researcher at the University of California Davis with Dr. Francine Bradley. She gained valuable extension experience by participating in the execution of the Game Fowl Health Assurance Program, as well as the Poultry Health Inspection program. She took a position at Delaware State University in Dover, Delaware, where she was Assistant Professor and Extension Poultry Specialist. In that position, her efforts were aimed at meeting the needs of small flock and niche market poultry producers.

At Auburn University, she works as an extension specialist with 4-H Youth Development in the Alabama Cooperative Extension System. She is providing leadership over all the animal programs in the state, as well as developing or revising curriculum to meet the needs of the programs. She enjoys working with the thousands of youth in the state that have an interest in, and participate in, animal programs, including programs such as 4-H Chick Chain.

She is co-author of The Chicken Whisperer's Guide to Keeping Chickens and The Chicken Whisperer's Guide to Zero Waste Chicken Keeping and contributing author of Chicken Fact or Chicken Poop, a regular contributor to the Plain Talk column in the Chicken Whisperer magazine, and a regular guest speaker on the Backyard Poultry with Andy the Chicken Whisperer radio show.
Praise For Chicken Fact or Chicken Poop: The Chicken Whisperer's Guide to the facts and fictions you need to know to keep your flock healthy and happy…
I love how Andy takes on the myths we have about raising chickens and sets the record straight.
- Halifax Chronicle Herald