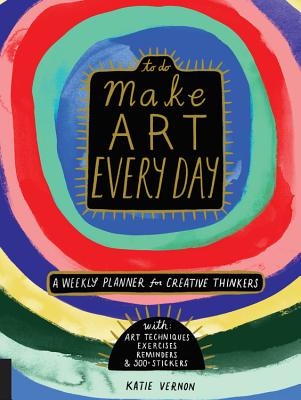 Make Art Every Day (Paperback)
A Weekly Planner for Creative Thinkers--With Art Techniques, Exercises, Reminders, and 500+ Stickers (To Do)
Quarry Books, 9781631593369, 128pp.
Publication Date: December 26, 2017
* Individual store prices may vary.
Description
Don't be intimidated by the prospect of daily creativity, Make Art Every Day is a 52-week planner filled with techniques and exercises to keep you on track! 

Visualize your creative goals with To Do: Make Art Every Day life planner, then make them a reality! This 52-week calendar and sticker set will be your guide as you learn about, plan for, engage in, and nurture your creative practice. Your art journey opens with guidance on basic hand lettering and writing techniques, mark-making in pencil, pen, and marker, working with color, and handling watercolor and acrylic paints.

The weekly format makes it easy to start your creative year at any time. Each week offers 2 to 3 mini-exercises, and basic art techniques, like drawing a simple flower or painting a landscape in watercolor. Plus, this motivational planner includes 500 stickers to encourage you to Take Quiet Time, Make an Art Date, and Explore Something New.
About the Author
Katie Vernon is an illustrator who has spent most of her life in the midwest but whose heart belongs in the mountains. She is a trend leader and a master watercolorist, and winner of the 2015 Lilla Rogers Global Talent Search. Her inspiration comes from being a florist, working with alpacas, and living on a bus. She's worked with Ikea, The Land of Nod, Hallmark, Oopsy Daisy, and Chronicle Books; and has been featured on HGTV, Design*Sponge, and OhJoy! Some of her favorite things include rearranging furniture, seltzer water, and two different species of animals becoming friends. Katie is also rather fond of her partner, daughter, and part-dingo dog. She lives in Evanston, Illinois.
Praise For Make Art Every Day: A Weekly Planner for Creative Thinkers--With Art Techniques, Exercises, Reminders, and 500+ Stickers (To Do)…
Here's a title that cuts to the chase! For those who enjoy painting and sketching, this book is set up as a weekly planner with prompts for technique and subject exploration. It also has nifty short tutorials on fun projects such as playing exquisite corpse, creating a repeating surface pattern, and sketching in public. Bonus: more stickers!
- Spirituality & Health