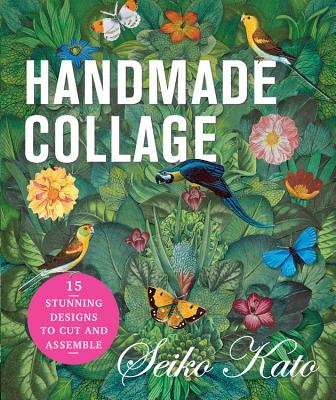 Handmade Collage with Seiko Kato (Paperback)
15 Stunning Designs to Cut and Assemble
Quarry Books, 9781631593451, 128pp.
Publication Date: June 1, 2017
* Individual store prices may vary.
Description
You don't have to be an artistic veteran to make projects with Handmade Collage with Seiko Kato. Just grab some scissors, glue sticks, and you're off and running!

Get to know the simple and therapeutic pleasures of cutting and assembling beautiful, harmonious images into your own, unique collage. Author and artist Seiko Kato has drawn up 15 unique collage creations for Handmade Collage with Seiko Kato, and with this vast collection of nearly 500 images to browse, cut out, and create with, you too will design and assemble your very own pieces of art.

Getting started is simple. All you need is a stick of glue, some paper or a card, a small pair of scissors (plus Seiko's inspirational ideas) and this array of evocative images. They are all ready for you to cut out, so why not get started now? 

Handmade Collage with Seiko Kato comes with loads of design themes, including: 
Tropical Utopia
Butterfly Paradise
Esther's Exotic Garden
Priscilla of the Sea
Major Mitchell's Cockatoo
Crystal Kingdom
Magical Menagerie
Mouse's Mushroom Forest
Kick-off your collage journey in style
today
!
About the Author
Seiko Kato is a Japanese collage artist living in Brighton, UK. An avid collector of vintage books, antique trinkets, Victoriana, interesting found object, she deconstructs old illustrations and reconstructs them into beautiful and sometimes thought-provoking collage with a detailed style unique to Kato's art.