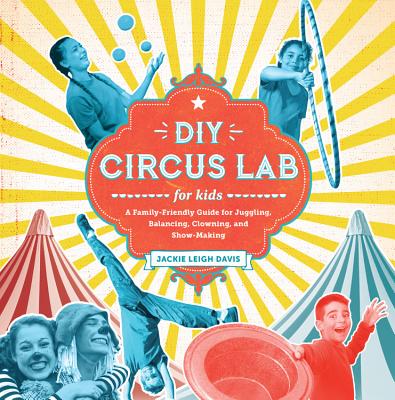 DIY Circus Lab for Kids
A Family- Friendly Guide for Juggling, Balancing, Clowning, and Show-Making
Paperback

* Individual store prices may vary.
Description
Produce your own circus! Make your own stilts, juggling sticks, and tightrope, then learn to use them; master the human pyramid; discover how to create your own circus acts and shows; and much more with DIY Circus Lab for Kids. Companion online video tutorials for every prop and skill make learning easy.
 
Veteran circus educator Jackie Leigh Davis takes you,
step by step
, through the props and skills you need to
perform all the major circus arts
:
Acrobatics, acrobalance, and human pyramids
Balance arts
Clowning
Gyroscopic and toss juggling
You'll learn how to make
juggling balls
, a
hoola hoop
, a
rola bola
, a
clown nose and hat
, and a pair of
poi
, among other circus essentials. With these props, you'll learn how to juggle, hoop, balance, perform clown gags, and more.
Photo demonstrations
,
numbered steps
, and
online tutorials
ensure you'll understand exactly how to make the props and perform the skills.  
Did you know that a tight rope walker in Ancient Greece was called a funambulus? Or that female jugglers can be found pictured in 4,000-year-old hieroglyphs on the wall of an Egyptian tomb?
DIYCircus Lab for Kids
includes the
history of each family of circus skills
. "Circademics" sidebars
explore the science and academics behind the circus
activities, like how the brain changes when you learn how to juggle.  
"Circussecrets" sidebars throughout connect circus arts to
social and emotional skills
, like listening, persistence, and asking for and giving help. Many of the skills in this book are safe enough for kids to do themselves, with a few requiring an adult "spotter" so families or classes can enjoy them together.  
Once you've learned how to create your own circus with
DIY Circus Lab for Kids
, you can also: host a circus prop–making party, start a juggling club at school, clown at a senior center or daycare, start a community circus meet-up in a park, or integrate circus themes into your school's curriculum—
the opportunities for circus fun are endless
.
The popular 
Lab for Kids series
 features a growing list of books that share 
hands-on activities and projects on a wide host of topics
, including art, astronomy, clay, geology, math, and even bugs—all authored by established experts in their fields. Each lab contains a
complete materials list
, clear
step-by-step photographs
of the process, as well as
finished samples
. The labs can be used as singular projects or as part of a yearlong curriculum of experiential learning. The activities are open-ended, designed to be explored over and over, often with different results. Geared toward being taught or guided by adults, they are enriching for a range of ages and skill levels. Gain firsthand knowledge on your favorite topic with Lab for Kids.
Praise For DIY Circus Lab for Kids: A Family- Friendly Guide for Juggling, Balancing, Clowning, and Show-Making…
Davis is a long-time circus instructor and her experience is immediately evident in her clear instructions, which are broken into written steps with photo illustrations featuring actual youth circus artists, while website links provide video demonstrations of prop/apparatus construction and the skills themselves. [. . .] A niche but exemplary resource.—Booklist, starred review

Davis notes that the "circus is for everyone"—an inclusive message echoed by the activities, which align with different ability levels and interests, from tight rope walking to designing T-shirts.—Publishers Weekly

DIY Circus Lab for Kids is a perfect circus classroom resource and also a tool for children who are interested in learning circus skills but who live in places where there is no access to circus classes.—Fiona Bradley, Circus Talk

A well-conceived how-to book [...] ideal for collections where tweens and teens want to learn how to put on a show.—School Library Journal

This is an excellent book, expertly done, and deserves a place on the bookshelf of any child interested in exploring the circus arts.—International Jugglers' Association

A hands-on, step-by-step guide with easy instructions and clear photos that demonstrate each juggling, balancing, clowning, and show-making activity.—Vivian Kirkfield, Picture Books Help Kids Soar blog

The book allows children to learn the basics of juggling, balancing, clowning and show-making, each skill paired with tutorials on how to hand-make props they might need at a cheaper cost than purchasing ready-made equipment. Whether it's juggling balls from tennis balls filled with sand and covered with colorful balloons suitable for kids of any age, or a plywood tight-rope frame that may need some adult assistance, the idea is to create an environment of inclusivity.—Monadnock Ledger-Transcript

A great reference book for school libraries [. . .] It's also a great hands-on gift for adventurous youth, and for video game-obsessed or artistic youth who need to know that not all physical activity is highly competitive or sports based!—CircusTalk
Quarry Books, 9781631593475, 152pp.
Publication Date: February 13, 2018
About the Author
Jackie Leigh Davis, EdM., is a circus education pioneer, teacher, and advocate. She was a founding member of the American Youth Circus Organization (AYCO), the first national youth circus advocacy organization in the country.  Founded in 1999, AYCO hosts biennial national festivals and educator conferences to promote the participation of youth in circus arts.
 
In 1995, Jackie established the circus arts curriculum for grades 1-8 at the Pine Hill Waldorf School in Wilton, NH. The program culminates in the annual Hilltop Circus, created and performed in collaboration with Pine Hill's middle school students. Jackie also founded the Silver Lining Circus Camp (1997), a summer day camp for children ages 7-14, and the Flying Gravity Circus (1999), a teen troupe that brought performances and workshops to school communities from Pennsylvania to Toronto. Jackie has coached juggling, balance skills, and performance/clowning at the Circus Smirkus summer camp in Vermont.
                         
She merged her interests in circus arts and academics to become a circademic, earning a Master of Education degree in Human Development & Psychology in 2009 from the Harvard Graduate School of Education. At Harvard she identified circus as a vehicle for physical, social-emotional, and cognitive development and constructed her theory of developmental circus arts (DCA).

Prior to her teaching and writing careers, Jackie was a professional mime who studied with Marcel Marceau, performed for nearly 4 years at Walt Disney World's EPCOT Center, and taught at New York University. She currently resides and writes in New Hampshire. Her adult daughters, Erin and Ellie, live nearby.
or
Not Currently Available for Direct Purchase