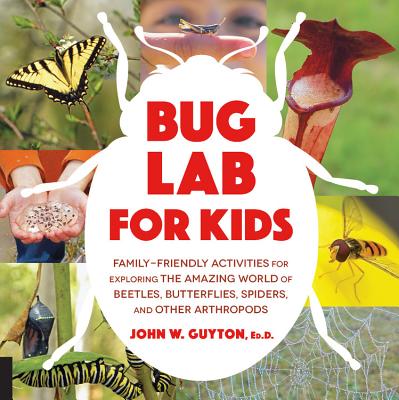 Bug Lab for Kids (Paperback)
Family-Friendly Activities for Exploring the Amazing World of Beetles, Butterflies, Spiders, and Other Arthropods (Lab Series)
Quarry Books, 9781631593543, 144pp.
Publication Date: June 12, 2018
* Individual store prices may vary.
Description
Prepare to cozy up with spiders, centipedes, butterflies, and bees, to name just a few! In Bug Lab for Kids, Mississippi State University associate professor, extension entomologist (bug expert), and educator John W. Guyton shares his knowledge and excitement about all things beautiful, creepy, and crawly.

Every chapter is bursting with photos, illustrations, fascinating facts and fun activities—including experiments, hunt-and-catch and citizen science assignments, and arts and crafts projects—that teach kids about bugs' physical characteristics, behavior, and how they affect agriculture, health, and water quality.

Bug Lab for Kids also includes helpful sidebars that explain how to safely handle common insects, and how to easily identify bugs that shouldn't be held, pet, or touched. Get kids excited about science and the outdoors with Bug Lab for Kids!

The popular Lab for Kids series features a growing list of books that share hands-on activities and projects on a wide host of topics, including art, astronomy, clay, geology, math, and even how to create your own circus—all authored by established experts in their fields. Each lab contains a complete materials list, clear step-by-step photographs of the process, as well as finished samples. The labs can be used as singular projects or as part of a yearlong curriculum of experiential learning. The activities are open-ended, designed to be explored over and over, often with different results. Geared toward being taught or guided by adults, they are enriching for a range of ages and skill levels. Gain firsthand knowledge on your favorite topic with Lab for Kids.
About the Author
John W. Guyton, EdD, is an associate professor and an extension entomologist at Mississippi State University. He is also the director of Arthropod Adventures, the oldest bug and plant camp in the world, the Mississippi State University Arthropod Zoo, Mississippi's BugFest, and Mississippi State University's 4-H Entomology program. Guyton is also the Immediate Past Chair for the Education & Outreach Committee of the Entomological Society of America. He lives in Starkville, Mississippi.
Praise For Bug Lab for Kids: Family-Friendly Activities for Exploring the Amazing World of Beetles, Butterflies, Spiders, and Other Arthropods (Lab Series)…
A 2019 Prize Finalist for Hands-On Science Books for the AAAS/Subaru SB&F Prize for Excellence in Science Books
 
- AAAS
Bug Lab for Kids
 is the perfect addition for the child who is the budding entomologist and wants to incorporate hands on activities. From the initial basics of putting together the proper outfit to collecting bugs to locating spider webs to understanding the physical make up of insects and how they function, this book is filled with simple and easily achievable projects.
- Mommy University
With photos, facts, illustrations, and activities, this book can encourage kids and their parents to get outside, make discoveries, and get more comfortable with these smallest natural citizens that play such an important role in our ecosystem.

 
- Motherhood Moment
This is a wonderful way to combine the fun of being outside with the science of bugs. You might even awaken a hidden desire to study entomology in your little. I also love that this book begins with safety basics for looking for bugs!
- Just a BX Mom
Entomologist Guyton enthusiastically introduces readers to the basics of bug science through 43 labs. [... Gives] budding entomologists essential knowledge and tools for exploring the insect world. 
- Publishers Weekly