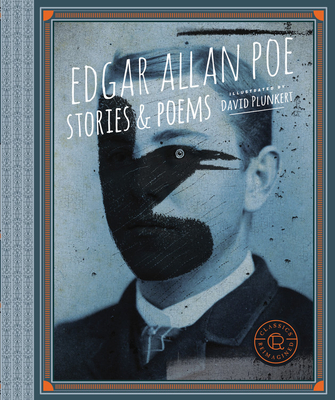 Classics Reimagined, Edgar Allan Poe (Paperback)
Stories & Poems
Rockport Publishers, 9781631593703, 208pp.
Publication Date: October 17, 2017
Other Editions of This Title:
Hardcover (11/15/2014)
* Individual store prices may vary.
Description
Retold with illustrations by artist David Plunkert, this high-end paperback edition of Classics Reimagined, Edgar Allen Poe will beguile your sad soul into smiling once again.

Well-known, Baltimore based artist David Plunkert will take you on a dark journey into the gothic stories and poetry of Edgar Allan Poe. Classic stories of the macabre will take on a whole new meaning when you experience them accompanied by David Plunkert's mystical, and sometimes haunting interpretations. With this edition of the Classics Reimagined series, you'll find these densely written classics boring... nevermore.

Whether you're looking to introduce young adults to classic horror tales, or are finding yourself drawn these classic mysteries and chillers, there no better starting point than Classics Reimagined, Edgar Allan Poe.

The Classics Reimagined series is a library of stunning collector's editions of unabridged classic novels illustrated by contemporary artists from around the world. Each artist offers his or her own unique, visual, interpretation of the most well-loved, widely read, and avidly collected literature from renowned authors.
About the Author
Edgar Allan Poe (1809–1849) is one of America's greatest and best-loved writers. Known as the father of the detective story, Poe is perhaps most famous for his short stories—particularly his shrewd mysteries and chilling, often grotesque tales of horror—he was also an extremely accomplished poet and a tough literary critic.
Poe's life was not far removed from the drama of his fiction. Orphaned at a young age, he was raised by a foster family. As a young man, he developed problems with gambling, debts, and alcohol, and was even dismissed from the army. His love life was marked by tragedy and heartbreak. Despite these difficulties, Poe produced many works now considered essential to the American literary canon.
David Plunkert is a principal, art director, designer, and illustrator at Spur Design in Baltimore, Maryland. The firm designs posters, covers, logos, brochures and websites for publishers and corporations. His illustrations have appeared in Newsweek, The New York Times, Wall Street Journal, and LA Weekly, among many others. His steampunkish illustration and collage style give his characters a spooky, surrealistic quality.