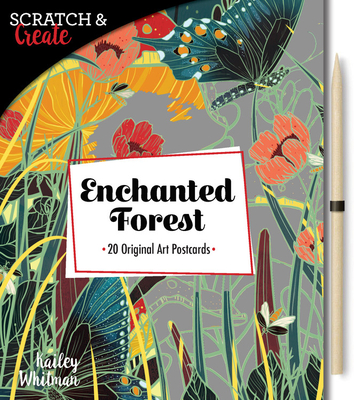 Scratch & Create (Paperback)
Enchanted Forest: 20 original art postcards
Rockport Publishers, 9781631593888, 20pp.
Publication Date: September 26, 2017
* Individual store prices may vary.
Description
Scratch pages have dethroned adult coloring books in the world of adult activity books. Scrape off the coating to reveal beautiful scenes with Scratch & Create: Enchanted Forest. 

Adult coloring books are so 2015. Grab your stylus and dive into the awesome world of scratch art! Each art page in Scratch & Create: Enchanted Forest is covered in a layer of silver, metallic coating. With the provided tool, you will etch, scrape, and scratch it away to reveal beautiful scenes beneath.

What better way to unwind after a stressful day than with the simple, meditative, satisfying act of creating art? Scratch & Create: Enchanted Forest comes with 20 delightful, original postcard-style designs by Kailey Whiteman. Each page is easy to tear out, so once you've completed your masterpiece, you can display, frame, or even mail them. Grab your stylus and get scratching today! You'll definitely be glad that you did.
About the Author
Kailey Whitman is an illustrator and designer whose work is heavily influenced by the natural world. Her work is detailed, sometimes complex, and encourages viewers to look a little closer. Her work has been printed in newspapers, magazines, books, and a variety of products. Some of her clients include The New York Times, The Village Voice, Middlebury College magazine, and Grid Magazine. When she's not drawing, she's thinking about drawing.