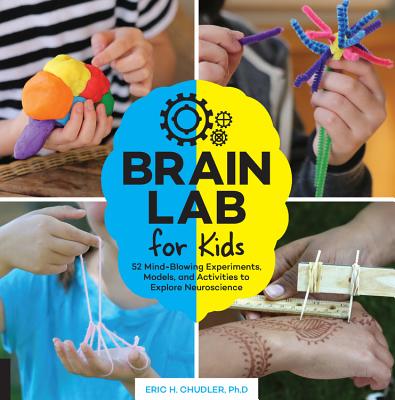 Brain Lab for Kids (Paperback)
52 Mind-Blowing Experiments, Models, and Activities to Explore Neuroscience (Lab Series)
Quarry Books, 9781631593963, 144pp.
Publication Date: March 6, 2018
* Individual store prices may vary.
Description
Riding a bicycle, learning a new language, catching a ball, reading a book: these activities and everything else we see, hear, feel, and do are made possible by the soft, whitish-pink substance inside our heads called the brain.  

And yet, we take for granted many of the amazing things our brain does for us.  And so, Brain Lab for Kids offers 52 family-friendly activities, science experiments, and models to help us understand how the brain accomplishes all that it does.

Each lab in this book is divided into several sections. After the title of each lab, the approximate time it will take to do the experiment is listed. The "Methods" section provides a step-by-step guide of the procedures and materials you will need to complete the lab. The science behind an experiment is explained in the "What's Going On" section. "Brain Facts" are interesting, fun, and perhaps surprising bits of trivia related to each lab. Finally, "Thinking Deeper" has suggestions that you can use to take each lab further.

The expanding field of brain science, also called neuroscience, offers the opportunity for all of us to learn about ourselves and others, and how we can better communicate, motivate, inspire and just plain collaborate together.
 
About the Author
Eric H. Chudler, Ph.D. is a research neuroscientist at the University of Washington with appointments in the Department of Bioengineering and Department of Anesthesiology & Pain Medicine; he is also the Executive Director/Education Director at the Center for Sensorimotor Neural Engineering. In addition to Eric's basic research into the how the brain processes sensory information, Eric has worked with precollege students and teachers for more than 20 years to develop resources and materials to help people learn about the brain. In 1997, with support from the National Institutes of Health, Eric established "Neuroscience for Kids," a website with information and interactive activities about neuroscience that can be used in the classroom or at home. Eric continues to expand the web site and develop new materials and programs. 
 
In addition to the creation of online materials, Eric has published several books, written articles, developed television programs ("BrainWorks") and contributed chapters to help students, teachers and the general public understand neuroscience and brain research. Eric is currently working with middle school teachers on the "Sowing the Seeds of Neuroscience" program that brings neuroscience and botany together in the classroom. Other neuroscience education efforts include coordinating the annual UW Brain Awareness Week Open House and working in India to teach Tibetan Buddhist monastics about neuroscience.
 
Dr. Chudler has received several awards for his education and outreach efforts including the Education Award from the Association of Neuroscience Departments and Programs (2002), MERLOT Award for Exemplary Online Learning Resources (2002), Science Educator Award from the Society for Neuroscience (2003), Scientific AmericanScience & Technology Web Award (2004),MERLOT Award for Exemplary Online Learning Resources (2006), Career Achievement Award from Faculty for Undergraduate Neuroscience (2006), and the Science Prize for Online Resources in Education (SPORE) from the American Association for the Advancement of Science (2010).
 
Praise For Brain Lab for Kids: 52 Mind-Blowing Experiments, Models, and Activities to Explore Neuroscience (Lab Series)…
A neuroscientist presents simple projects and activities designed to demonstrate the brain's major functions—and a few of its quirks. [...] Valuable insights into (arguably) our most important organ.
- Kirkus Reviews
This smart and fun collection will get synapses firing as kids discover how the brain works.
- Booklist
A solid addition for STEM collections, and offers fresh ideas for science fair projects. Recommended.
- School Library Connection