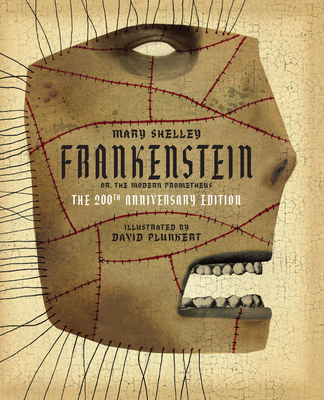 Classics Reimagined, Frankenstein (Hardcover)
Rockport Publishers, 9781631593970, 256pp.
Publication Date: January 16, 2018
* Individual store prices may vary.
Description
With detailed and evocative imagery, renowned artist David Plunkert takes readers on a dark journey into the greatest novel in the monster genre, Frankenstein.

Over two centuries after Mary Shelley's original version, Rockport Publisher's Classics Reimagined series presents this beautiful deluxe edition. The 256-page hardcover book features an 8-page vellum insert detailing the doctor's designs, and a stunning, full-bleed gatefold image of the monster. Finished with printed endpapers, this masterpiece volume is perfect for book lovers and art lovers alike.

The suspense and horror of Dr. Frankenstein reanimating assembled body parts, the monster spying on an unknowing family, and the creature's revenge on his maker take on a whole new meaning when accompanied by Plunkert's mystical, layered interpretations.

The Classics Reimagined series is a library of stunning collector's editions of unabridged classic novels illustrated by contemporary artists from around the world. Each artist offers his or her own unique, visual interpretation of the most well-loved, widely read, and avidly collected literature from renowned authors. From Alice's Adventures in Wonderland to The Adventures of Sherlock Holmes and from Jane Austen to Edgar Allan Poe, collect every beautiful volume.
About the Author
Mary Wollstonecraft Shelley (30 August 1797 - 1 February 1851) was an English romantic/gothic novelist and the author of Frankenstein, or The Modern Prometheus. She was married to the Romantic poet Percy Bysshe Shelley.Mary Shelley was born Mary Wollstonecraft Godwin in Somers Town, in London, in 1797. She was the second daughter of famed feminist, philosopher, educator, and writer Mary Wollstonecraft. Her father was the equally famous anarchist philosopher, novelist, journalist, and atheist dissenter William Godwin. Her mother died of puerperal fever ten days after Mary was born.
David Plunkert is a principal, art director, designer, and illustrator at Spur Design in Baltimore, Maryland. The firm designs posters, covers, logos, brochures, and websites for publishers and corporations. His illustrations have appeared in Newsweek, The New York Times, Wall Street Journal, and LA Weekly, among many others. His steampunkish illustration and collage style give his characters a spooky, surrealistic quality.
Praise For Classics Reimagined, Frankenstein…
"...A new bicentennial pressing of Frankenstein, full of haunting images by artist and graphic designer David Plunkert."
- Jason Bailey, Flavorwire
"With detailed and evocative imagery, renowned artist David Plunkert takes readers on a dark journey into the greatest novel in the monster genre."
- John Squires, Bloody Disgusting
"This evocative new hardcover volume is blessed with a series of unsettling illustrations by acclaimed artist David Plunkert that punctuate the famous monster tale with refreshing originality."
- Jeff Spry, SYFYWIRE
or
Not Currently Available for Direct Purchase