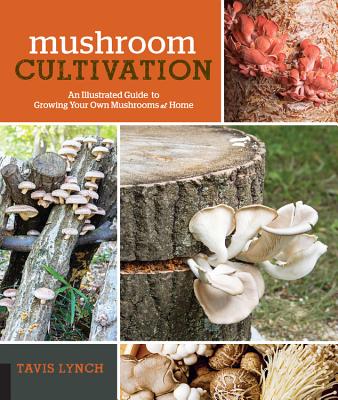 Mushroom Cultivation (Paperback)
An Illustrated Guide to Growing Your Own Mushrooms at Home
Quarry Books, 9781631594045, 144pp.
Publication Date: May 8, 2018
* Individual store prices may vary.
Description
Mushrooms are popping up everywhere! On restaurant menus, in grocery aisles, at local farmer's markets, and not just the ubiquitous white buttons we've seen for years. What once were exotic are now almost commonplace -- shiitake, chanterelle, cremini, enoki, the list grows longer every year.

Understanding how mushrooms grow is crucial to successfully cultivating them, and Mushroom Cultivation offers comprehensive instruction both on how mushrooms grow and how you can cultivate them yourself to enrich your soil, speed up your composting, and even to suppress weeds. Some cultivate mushrooms for medicinal use or make them into teas and tinctures.

After reading Mushroom Cultivation, you'll discover that growing a mushroom is really no more difficult than growing a tomato.  You just need a slightly different set of skills.
About the Author
Tavis Lynch has been studying mushrooms for over three decades and teaches several mycology classes throughout the Upper Midwest. He is a regular guest on Wisconsin Public Radio and has been featured on "Around the Farm The Farm Table" on PBS. He owns and operates a large scale mushroom farm in the northwoods, growing mushrooms with a unique method that he developed. He is the author of Mushroom Cultivation (Quarto) and the co-author of The Beginner's Guide to Mushrooms (Quarto).
Praise For Mushroom Cultivation: An Illustrated Guide to Growing Your Own Mushrooms at Home…
Mushroom Cultivation convinced me that growing mushrooms in my home garden is not a crazy proposition, nor is it a difficult one. There are several easy methods by which mushrooms can be grown at home...and Tavis Lynch illustrates each of them deftly, with instructions for setting up and maintaining the mushroom beds in easily understandable language
- Little House in an Old Town
Lynch's book really gets down to serious details in the chapters on how to grow mushrooms in each unique substrate: logs, straw, sawdust and wood chips, and compost. Step-by-step instructions and fabulous photographs provide the reader with information needed to be successful.
- Oregon Live
you can dazzle dinner guests with dishes made from the recipes in this book
- Country Gardens
This book is great for anyone wanting step-by-step instructions and expert tips for growing, preparing, and cooking your own mushrooms.
- International Journal of Medicinal Mushrooms