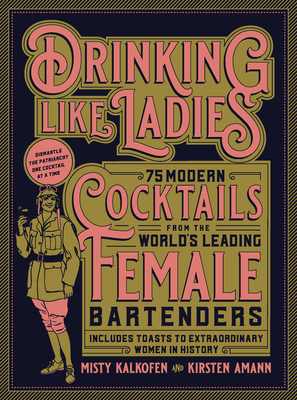 Drinking Like Ladies (Hardcover)
75 modern cocktails from the world's leading female bartenders; Includes toasts to extraordinary women in history
Quarry Books, 9781631594182, 184pp.
Publication Date: June 19, 2018
* Individual store prices may vary.
Description
Drinking Like Ladies is dedicated to the proposition that a woman's place is behind the bar. . . or in front of it. . . or really any place she pleases.

Acclaimed bartenders Kirsten Amann and Misty Kalkofen have scoured the globe collecting recipes--often from equally acclaimed female bartenders--pairing each tipple with a toast to a trailblazing lady. From gin to whiskey, tequila to punch, Drinking Like Ladies has a twist and a toast for every tippler, whatever your base spirit.
About the Author
Misty Kalkofen first stepped behind the bar while studying theology at Harvard Divinity School and soon realized what most excited her about the Bible was the passage in which Jesus turns water into wine. Kalkofen has spent over twenty years honing her craft and has earned a reputation as one of America's foremost authorities on cocktail history and culture. She has been featured in Bon Appetit, Imbibe, Food & Wine Cocktail editions, Wine Enthusiast, the Wall Street Journal, the Boston Globe, Tasting Panel, Wine & Spirits, and more. In 2013, she decided to focus attention on her love for all things agave by joining the team of Del Maguey Single Village Mezcal.  Always one to find a good reason for a party, Kalkofen founded the Boston chapter of Ladies United for the Preservation of the Endangered Cocktail (LUPEC) thus fulfilling her desire to "cocktail for a cause." Since then, LUPEC has raised more than $40,000 for local Boston women's charities by throwing the best parties in town.
Kirsten Amann has over fifteen years of experience in the beverage industry as a brand ambassador, publicist, bartender, and writer. She is the Bostonâ?`based Brand Ambassador for Intrepid Spirits' Egan's Irish Whiskey and Mad March Hare Poitin. She is also the local Brand Ambassador for Perfect Puree of Napa Valley. Kitty partners with Jonathan Pogash of The Cocktail Guru as his Marketing and Business Development Guru, representing brands and presenting cocktail events nationwide. Kitty spent four years as Boston's first Brand Ambassador for Fernetâ?`Branca and her past clients include Plymouth, Beefeater, Bols Genever, The Bitter Truth, No. 3 Gin, and more. Kitty works with clients to champion their brands, develop dynamic events, create delicious cocktails, and find a little healthy balance while doing it. Kitty is a founding member of the Boston chapters of Ladies United for the Preservation of Endangered Cocktails (LUPEC Boston) and the United States Bartenders Guild. She writes a monthly cocktail column for the MA Beverage Business under the byline "Pink Lady" and her cocktail writing has appeared in Daily Candy, The Weekly Dig, and Chilled Magazine among others.
Praise For Drinking Like Ladies: 75 modern cocktails from the world's leading female bartenders; Includes toasts to extraordinary women in history…
Drinking Like Ladies, lest you are tempted to think otherwise, does not refer to sweet, pink, girlie cocktails. Far from it. Here you'll discover lots of serious drinks celebrating women who have made a difference in the world.  And the cocktails themselves were all created by bartenders who know their craft well. It's a treat!
- Gary Regan, Author of Joy of Mixology and The Negroni: Drinking to La Dolce Vita
Looking for the essential guide to frilly drinks that taste like creamsicles and fruit pops? Keep looking. Misty and Kirsten have collected cocktail recipes that deserve to endure from some of the best behind the bar, complete with chaser of education and inspiration. No froufrou, no handlebar mustaches — just sips to satisfy palate and soul. 
- Wayne Curtis, author of And a Bottle of Rum
Misty Kalkofen and Kirsten Amaan have written a cocktail book for our times. Each of these 75 recipes was inspired by a remarkable woman, and is accompanied by a short history of same. Not just known notables like Ruth Bader Ginsburg and Hedy Lamarr, but also unsung figures like Wrecking Crew session musician Carol Kaye, fearless tavern owner Dirty Helen Cromwell and antebellum Pinkerton detective Kate Warne. Dive in, drink and learn. If there's any justice, the mixologists who honor the women in these pages soon will be just as celebrated.
- Robert Simonson, New York Times cocktail writer and author of A Proper Drink
Inspired, original and captivating.  Drinking Like Ladies is a cocktailof hidden women's histories, amazing recipes from some the best female bartenders around the world, and a graphic novel to boot.  I want to give a copy to all my pals. Especially my gal pals.
- Davia Nelson, NPRs Kitchen Sisters
At The Bitchery of History, we like to ask questions. Questions like, where is all the women's history? Why don't more people know about Irena Sendler?! When will there will be a drinking book that memorializes women in history AND helps us up our cocktail game during our weekly rants against the patriarchy?! Thankfully Drinking Like Ladies is not only gorgeous and informative, the recipes are inventive and look delicious! The women covered, some of which we've covered on the podcast, are well researched and diverse. So be classy, always Drink Like a Lady, and remember that Bitches Get Stuff Done.
- Max Kirkham & Allison Powell, co-hosts / producers of The Bitchery of History podcast
My mother worked in a New England textile factory sewing machine gun belts. Her modest dream was to continue her education and teach women's athletics; a dream deferred to allow her older brother to attend university. Let's raise a glass to Drinking Like Ladies, a book that celebrates extraordinary women who fought against the idea that young women who want careers are simply dreaming.
 
- Dale Degroff, Author of the Craft of the Cocktail