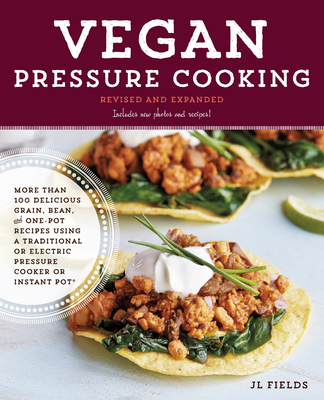 Vegan Pressure Cooking, Revised and Expanded (Paperback)
More than 100 Delicious Grain, Bean, and One-Pot Recipes Using a Traditional or Electric Pressure Cooker or Instant Pot®
Fair Winds Press, 9781631594212, 208pp.
Publication Date: January 16, 2018
* Individual store prices may vary.
Description
Conquer your pressure cooking fears and make meals in minutes!
 
Say goodbye to long cooking and preparation times. With an Instant Pot® or other pressure cooker, you can cook filling, nutritious meals in under an hour and with little mess or cleanup. It's the dinner (and breakfast, and lunch) solution you've always dreamed of. 
 
In this revised and expanded edition of the classic Vegan Pressure Cooking, you'll find:
More than 30 pages of new content, including new recipes (over 120 recipes total) and new photos
Information about using any type of pressure cooker or multicooker, including an Instant Pot, and how to choose which is best for you
Cooking charts for beans, grains, vegetables, and more, so there's no guesswork—or mushy vegetables—involved
Recipes that span all meals and tastes, from easy breakfasts such as Apple Pie Steel-Cut Oats to healthy dinners like Kale, Lentil, and Squash Chili and Jackfruit and Sweet Potato Enchiladas

Perfect for novice cooks and experts alike, there's something for everyone with Vegan Pressure Cooking.
About the Author
JL Fields is a culinary instructor and educator on all things vegan. She is the founder and director of the Colorado Springs Vegan Cooking Academy, the author of The Vegan Air Fryer (2017 Cookbook of the Year winner by VegNews magazine), Vegan Pressure Cooking, and co-author of The Main Street Vegan Academy Cookbook and Vegan for Her. JL received culinary training at the Natural Gourmet Institute and the Christina Pirello School of Natural Cooking and Integrative Health Studies and teaches vegan cooking in the culinary arts program at the University of New Mexico at Taos. She speaks on plant-based food and vegan activism throughout the U.S. and has been interviewed for radio shows and podcasts including Main Street Vegan, Our Hen House, and Erin Red Radio.

www.jlgoesvegan.com
Praise For Vegan Pressure Cooking, Revised and Expanded: More than 100 Delicious Grain, Bean, and One-Pot Recipes Using a Traditional or Electric Pressure Cooker or Instant Pot®…
If you're looking to reduce your time in the kitchen without sacrificing the goodness of home-cooked meals made from wholesome ingredients, Vegan Pressure Cooking is for you. In this easy-to-follow cookbook, JL guides us through the basics of pressure cooking and shares recipes for classic and creative meals that focus on nature's healthiest foods. With a great book like this one, the pressure cooker may soon overtake your microwave's place as the quick meal-maker appliance in your house!
- Dr. Neal Barnard, M.D., Physicians Committee for Responsible Medicine
Whether your pressure cooker is one of your favorite appliances, or you're only just thinking of buying one, this beautiful and informative book is for you. Filled with delicious, easy-to-make recipes and wholesome ingredients, Vegan Pressure Cooking truly deserves a place on your bookshelf. 
- Colleen Patrick-Goudreau, bestselling author of The 30-Day Vegan Challenge, The Joy of Vegan Baking
Making vegan meals fun, accessible and delicious - that's what JL does best. And in this book, she completely demystifies the pressure cooker, which means you can have healthy plant-based meals in - literally - minutes. Vegan Pressure Cooking is a must-have cookbook for any busy, health-conscious cook, whether you are already vegan or are taking steps toward more plant-based meals.
- Virginia Messina, MPH, RD, co-author of Vegan for Life, Vegan for Her, and Never Too Late to Go Vega
In this beautiful and accessible book, the irrepressible JL Fields reinvents 'fast' food healthfully, deliciously, and passionately. And she proves beyond a doubt that this is not your grandma's pressure cooking.
- Victoria Moran, author of Main Street Vegan and director of Main Street Vegan Academy
Finally, a cookbook that makes it fun to cook under pressure! JL Fields expertly guides us into the world of pressure cooking, combining practical instruction with inventive recipes. Her enthusiasm for easy, delicious, compassionate food will help you prepare vegan staples with ease--and also impress guests when the pressure's on! 
- Dreena Burton, author of Eat, Drink & Be Vegan, Let Them Eat Vegan!, and more
Her un­intimidating approach takes into account all the important basics without being overwhelming.
- Library Journal