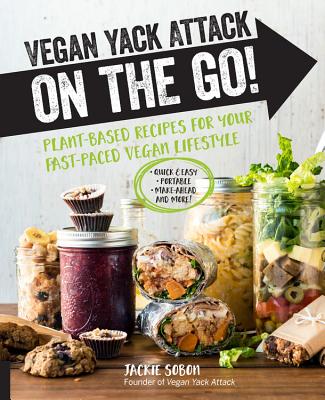 Vegan Yack Attack on the Go!
Plant-Based Recipes for Your Fast-Paced Vegan Lifestyle •Quick & Easy •Portable •Make-Ahead •And More!
Hardcover

* Individual store prices may vary.
Description
Whether you are new to plant-based cooking or are looking to master your vegan lifestyle, Vegan Yack Attack on the Go! is a must-have resource—with flavorful recipes you can prepare quickly and easily, make in advance, or take with you.
Developed for real life, this is the cookbook you will return to again and again. Jackie Sobon, the plant-based rock star behind the blog
Vegan Yack Attack
and author of the popular cookbooks
Vegan Bowl Attack!
and
Vegan Yack Attack's Plant-Based Meal Prep
, will be your guide, offering
beautifully photographed recipes
you not only want to eat, but can whip up in any slice of time you can carve out.
Following an
introduction to vegan cooking
that includes pantry necessities, equipment, and tips and tricks, learn to make delicious:
Blueberry Zucchini Breakfast Cookies
Berry Rhubarb Chia Jam
BBQ Tempeh Wrap
Sesame Soba Salad
Kale Raspberry Grain Salad
Summer Stew with Zucchini, Tomatoes & Corn
Butternut Mac and Trees
Chickpea Tendies & Waffles
Hearty Skillet Cornbread
Cauliflower Curry Grill Packets with Yogurt Sauce
Campfire Banana Splits
Frozen Pineapple Floats
Packed with a wide variety of meals that are
fun, tasty, and quick to put together
, you'll feel confident knowing you can go anywhere, do anything, and still eat delicious food.
Praise For Vegan Yack Attack on the Go!: Plant-Based Recipes for Your Fast-Paced Vegan Lifestyle •Quick & Easy •Portable •Make-Ahead •And More!…
"This book redefines 'fast food' by combining easy recipes with smart tricks, tips, and techniques that add fun, sustainability, and color for people who are always on the go and in a hurry—like me!"
–Miyoko Schinner, founder and CEO Miyoko's Kitchen, and author of The Homemade Vegan Pantry
 
"Now you really don't have any excuse not to go vegan and maintain a healthy diet. Vegan Yack Attack On the Go! not only takes the stress out of cooking, but also allows you to make easy and nourishing meals that look as great as they taste."
–Caitlin Shoemaker, blogger at From My Bowl
 
"From lunchbox meals to quick breakfasts and snacks, Jackie's cookbook is packed with creative and craveable recipes. The photography is inspiring, accessible, and absolutely gorgeous. Flipping through these pages will make even the busiest of people feel excited and empowered to hop into the kitchen and cook."
–Kathy Patalsky, founder of Healthy Happy Life, and cookbook author
 
"This new book is a game changer. Instagram-ready dishes that fit into the busiest of lifestyles, and you don't have to sacrifice health or taste. Each new chapter is an absolute revelation. This book is a must-have for all the foodies in your life."
–Asher Brown, founder of Pollution Studios and plant-based Producer
 
"I swear I will never say I'm too busy to eat well again! Vegan Yack Attack on the Go! proves you don't need to slow down to accommodate your plant-based lifestyle—I didn't!"
–Tim Moore, founder of @veganfatkid and Train Vegan
 

This cookbook is proof that vegan food can be portable, healthy, and tasty.—Publishers Weekly
Fair Winds Press, 9781631594229, 208pp.
Publication Date: July 3, 2018
About the Author
Jackie Sobon is a food photographer, recipe developer, and author specializing in vegan food. She is the founder of the popular food blog Vegan Yack Attack, which has been showcasing her creative recipes and stunning photography since 2011 and has been placed on many top blog lists. Her work has been featured on websites such as KTLA News, ABC News (Good Morning America), VegNews, Kris Carr, PureWow, Babble, and BuzzFeed. Jackie has photographed cookbooks for the likes of Jason Wrobel, Happy Herbivore, and other plant-based authors. She is the author of Vegan Bowl Attack! and Vegan Yack Attack on the Go!.