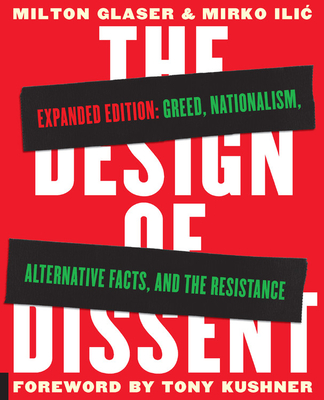 The Design of Dissent, Expanded Edition (Paperback)
Greed, Nationalism, Alternative Facts, and the Resistance
Rockport Publishers, 9781631594243, 296pp.
Publication Date: September 5, 2017
* Individual store prices may vary.
Description
The Design of Dissent is a global collection of socially and politically driven graphics on issues including Black Lives Matter, Trump protests, refugee crises, and the environment.

Dissent is an essential part of keeping democratic societies healthy, and our ability as citizens to voice our opinions is not only our privilege, it is our responsibility. Most importantly, it is a human right, one which must be fervently fought for, protected, and defended.
 
Many of the issues and conflicts visited in the first edition of this book remain vividly present today, as simmering, sometimes throbbing reminders of how the work of democracy and pace of social change is often incremental, requiring patience, diligence, hope, and the continuing brave voices of designers whose skillful imagery emboldens, invigorates, and girds us in the face of struggle.
 
The 160+ new works in this edition document the Arab Spring, the Obama presidency, Occupy Wall Street, Black Lives Matter, the election of Donald Trump, Putin's continuing influence, the Women's March, the ongoing refugee crises, immigration, environment and humanitarian issues, and much more. This powerful collection, totaling well over 550 images, stands not only as a testament to the power of design but as an urgent call to action.
About the Author
Milton Glaser is the embodiment of American graphic design, to many. He co-founded the revolutionary Push Pin Studios, founded New York magazine with Clay Felker, established Milton Glaser, Inc., and teamed with Walter Bernard to form the publication design firm WBMG. He also designed the famous I♥NY campaign. Glaser's artwork has been featured in exhibits worldwide, including one-man shows at both the Centre Georges Pompidou in Paris and The Museum of Modern Art in New York. His work is also a part of several permanent collections, including The Museum of Modern Art, New York. He was awarded the National Medal of Arts by President Obama in 2009. He lives in New York City.
Mirko Ilic was born in Bosnia. In Europe, he drew comics, illustrations, and designed posters, books, and record covers. When he arrived in the U.S., he became the art director of Time magazine international edition. Later he became art director of the op-ed pages of the New YorkTimes. In 1995, he established his firm Mirko Ilic Corp. His company designs for a wide range of clients, from pro bono organizations to high luxury hospitality clients. His work is in collections of institutions such as the Smithsonian Museum and MoMA, New York. He organizes and curates shows and lectures around the world. Mirko teaches masters degree illustration at the School of Visual Arts in New York.
Tony Kushner was born in Mahattan in 1956, and grew up in Lake Charles, Louisiana. He is best known for his two-part epic, Angels In America: A Gay Fantasia on National Themes. His other plays include A Bright Room Called Day, Slavs!, HydrotaphiaHomebody/Kabul, and Caroline, or Change, the musical for which he wrote book and lyrics, with music by composer Jeanine Tesori.
Steven Heller wears many hats (in addition to the New York Yankees): For 33 years he was an art director at the New York Times, originally on the OpEd Page and for almost 30 of those years with the New York Times Book Review. Currently, he is co-chair of the MFA Designer as Author Department, Special Consultant to the President of SVA for New Programs, and writes the Visuals column for the New York Times Book Review.
Praise For The Design of Dissent, Expanded Edition: Greed, Nationalism, Alternative Facts, and the Resistance…
"In an age dominated by moving images, these freeze-frame visuals hold their own. They represent the activist strain of graphic design. Like contemporary advertising, it thrives on shock, wit and instant recognition. But as playwright Tony Kushner writes in the book's foreword, there must also be 'some galling truth . . . imprisoned beneath the surface of public discourse' that causes a designer to fire a signal flare."
Linda Hales, Washington Post
 The subtitle of this new edition says it all. At a moment of political instability — not to say rage — Glaser, perhaps the most famous living American graphic designer, surveys recent posters and images that were made to provoke action.
- The San Francisco Chronicle
"The book's images will test the visual literacy and political awareness of many readers and will challenge preconceptions and assumptions."
–Los Angeles Times