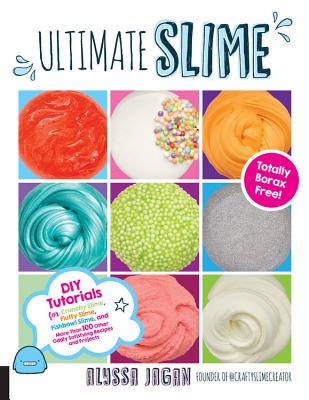 Ultimate Slime (Paperback)
DIY Tutorials for Crunchy Slime, Fluffy Slime, Fishbowl Slime, and More Than 100 Other Oddly Satisfying Recipes and Projects--Totally Borax Free!
Quarry Books, 9781631594250, 112pp.
Publication Date: October 17, 2017
* Individual store prices may vary.
Description
Who knows what makes playing with slime so tactually satisfying. Whatever the reason, Ultimate Slime is here with over 100 borax-free recipes invented by the CraftySlimeCreator, Alyssa Jagan.

Written by Alyssa Jagan, popular Instagram slimer of @CraftySlimeCreator fame, Ultimate Slime makes creating gorgeous, satisfying slime easy! You'll see how to do everything you need to create a world of slime in a rainbow of colors and incredible textures.

Your slimy journey will start with some basic recipes, including kid-safe slime, then you will learn to make fluffy slime, clear slime, slushy slime—more than 100 recipes and projects in all. Then you can supercharge your slime by adding vibrant colors and all kinds of awesome mix-ins to create confetti slime, iceberg slime, floam—there are no limits to what you will create!

Don't miss your chance to create unique kinds of slime that you never thought were possible. All are completely borax free, and all come directly from the mind of the @CraftySlimeCreator herself, Alyssa Jagan.
 
About the Author
Alyssa Jagan is Alyssa of@CraftySlimeCreator, which has been named one of the best slime accounts on Instagram. She is the author of Ultimate Slime (Quarry Books), which has been published in eleven languages. The popular Instagram slimer is a 17-year-old high school student who lives with her family in Toronto. Alyssa posts videos to her Instagram accounts every day and co-hosts the Slimey Sundays live podcast on Instagram with Erin Murphy of @SlimeonadeStand. She also sells her slime creations and other products on her Etsy site, CraftedbyAlyssa. Alyssa has attended the Global Young Leaders Academy, a pre-college program offered at the Wharton School of Business at the University of Pennsylvania. In addition, Alyssa has been profiled by a variety of media outlets, including The New York Times, Associated Press, The Globe and Mail, and the BBC. 
Praise For Ultimate Slime: DIY Tutorials for Crunchy Slime, Fluffy Slime, Fishbowl Slime, and More Than 100 Other Oddly Satisfying Recipes and Projects--Totally Borax Free!…
"If there's anyone who knows how to make slime, one of the most popular trends for kids on YouTube and Instagram, it's content creator Alyssa Jagan—AKA craftyslimecreator on Instagram. The sixteen-year-old has hundreds of thousands of followers who watch her slime videos regularly for inspiration and relaxation.
Jagan is now also the author of a DIY book that slime makers of all ages will love: Ultimate Slime. Whether they're looking for just the right slime recipe, ideas for making new kinds of slime, or even suggestions for new ways to play with it, this is the ultimate book for slime fanatics." - Kelly Knox for GeekMom.