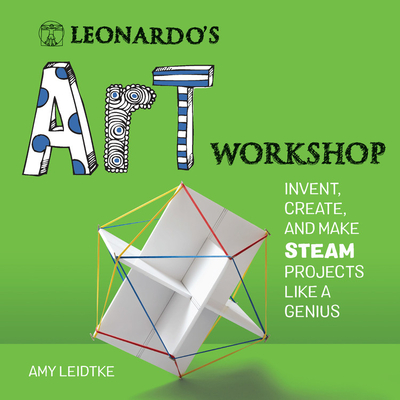 Leonardo's Art Workshop
Invent, Create, and Make STEAM Projects like a Genius (Leonardo's Workshop)
Paperback

* Individual store prices may vary.
Description
Leonardo's Art Workshop leads children on an interactive adventure through key art concepts by following the multidisciplinary approach of the Renaissance period polymath Leonardo da Vinci: experimenting, creating projects, and exploring how art intersects with science and nature. Photos of Leonardo's own notebooks, paintings, and drawings provide visual inspiration.
 
More than 500 years ago, Leonardo knew that the fields of science, technology, engineering, art, and mathematics (STEAM) are all connected. The insatiably curious Leonardo examined not just the outer appearance of his art subjects, but the science that explained them. He began his studies as a painter, but his curiosity, diligence, and genius made him also a master sculptor, architect, designer, scientist, engineer, and inventor. The Leonardo's Workshop series shares this spirit of multidisciplinary inquiry with children through accessible, engaging explanations and hands-on learning.
 
Following Leonardo's example, this fascinating book harnesses children's innate curiosity to explore the foundational elements of art—color, shadow and light, lines and patterns, forms and structures, and optics and special effects—and the science behind them. After each concept is explained using science, history, and real-world examples, kids can experience the principles first-hand with step-by-step STEAM projects, including:
Create paints and dyes from food
Harness a rainbow with a prism
Build a camera obscura
Make your own sundial
Practice blind contour drawing
Create a one-point perspective drawing
Make an infinity scope
Insight from other great artists and scientists—such as Sir Isaac Newton, Sandro Botticelli, Paul Klee, and Leonardo Pisano Fibonacci—are woven into the lessons throughout.
 
Introduce vital STEAM skills through visually rich, hands-on learning with Leonardo's Art Workshop.
Rockport Publishers, 9781631595226, 144pp.
Publication Date: November 20, 2018
About the Author
Amy Leidtke, principal of Leidtke Design, is an accomplished industrial designer, artist, and educator with a standing record of success combining the disciplines of research, strategic and master planning, ideation and design development, participatory design workshops, in an inclusive professional design practice.
For 20-plus years, Leidtke has worked on projects such as immersive play and learning environments, traveling exhibits and products for mass production, including children's educational kits/activities, medical equipment, retail displays and corporate identity systems. She has worked with clients such as the Children's Museum of Indianapolis, Boston Children's Museum, Henry Ford Museum/Spirit of Ford, Lincoln Children's Museum, The Building for Kids, Lincoln Parks and Recreation Department, Rhode Island School of Design (RISD), Rotobin, and Simplicity and Zoom (educational public television).
She has a special interest in pediatric design (design for children), and has devoted most of her career to building an expertise in collaboratively developing and designing innovative interactive learning and play environments (museum exhibits and parks), toys, games, activity guides, and curricula for children and families.
Leidtke is a master teaching artist, having served as a Designer-in-Residence with public and private schools, working with children, youth and educators to create fun, interactive products and experiences within the context of academically integrated curriculum. Programs focus on themes including, but not limited to, brainstorming, collaboration, empathy, communication, drawing, and design thinking.