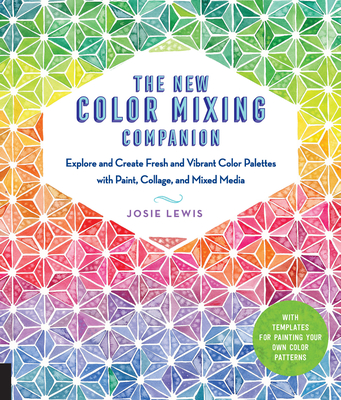 The New Color Mixing Companion (Paperback)
Explore and Create Fresh and Vibrant Color Palettes with Paint, Collage, and Mixed Media--With Templates for Painting Your Own Color Patterns
Quarry Books, 9781631595493, 160pp.
Publication Date: December 4, 2018
* Individual store prices may vary.
Description
The New Color Mixing Companion is a modern, hands-on guide to working with color featuring approachable projects that each explore a different aspect of color mixing.

In The New Color Mixing Companion, artist and popular Instagrammer Josie Lewis (@josielewisart) offers easy lessons and exercises on how to mix color and create exciting palettes.

This comprehensive guide starts with a crash course in essential terminology and visual vocabulary, then shows you how to go beyond the wheel and basic theory with hands-on projects that illustrate and illuminate a variety of color elements and techniques. The materials used—including watercolor and acrylic paints, and found or purchased collage papers—are accessible, inexpensive, and readily available. Plus, this art guide includes easy-to-use templates featured in many of the projects; their modern geometric layouts yield stunning color arrangements.

With The New Color Mixing Companion, artists, crafters, and designers of all skill levels will learn to take color in a whole new direction!
About the Author
Artist Josie Lewis, whose Instagram account @josielewisart has more than 450,000 followers, has taught college-level painting, drawing, art appreciation, and two-dimensional design, and also regularly teaches workshops, leads creative retreats, and hosts exhibitions in her Minneapolis studio. She has been featured on DesignSponge, Insider, High Times, and by many other social media influencers. Josie's work has also been exhibited widely throughout the US and can be found in the collections of many private and public institutions, including Target Corporation, General Mills, University of Arizona at Phoenix and Flagstaff, and University of Minnesota. Her current work, which explores the interaction of material, pattern, repetition, and color, spans many mediums, including sculpture, painting, mixed media, and film. A two-time grant recipient of the Minnesota State Arts Board, Josie has a BA from Bethel College in St. Paul, Minnesota, and an MFA from the University of Minnesota. Originally from the North Shore of Lake Superior in Minnesota, she lives in the Twin Cities. In addition to @josielewisart, you can also find Josie on Instagram at @petrifiedrainbow and @colorcompanion. See more of her work at josielewis.com.