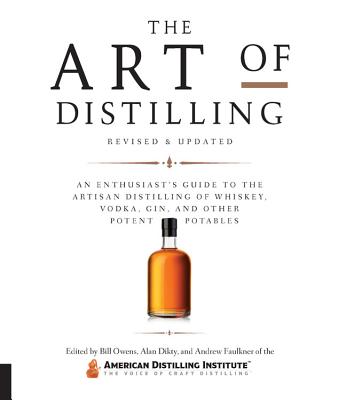 The Art of Distilling, Revised and Expanded (Paperback)
An Enthusiast's Guide to the Artisan Distilling of Whiskey, Vodka, Gin and other Potent Potables
Quarry Books, 9781631595547, 176pp.
Publication Date: January 22, 2019
* Individual store prices may vary.
Description
The Art of Distilling, Revised and Updated presents the techniques and inspirations of the most innovative micro-distillers working today and ties it together with incredible insider photography.

In this comprehensive guide to artisan distilling, American Distilling Institute founder Bill Owens will teach you how contemporary master distillers transform water and grain into the full range of exquisite, timeless spirits. The Art of Distilling, Revised and Updated is your exclusive backstage pass into the world of small-scale distilling of whiskies, gins, vodkas, brandies, and many other spirits. 

Like no other book on the subject, The Art of Distilling goes to lengths to explore the actual craft of distilling, in detail. Beginning with a brief history of distilling and introduction to the process itself, this book offers a comprehensive overview of the art of distilling today. 

The revised and expanded edition includes even more practical tips, tricks, and instruction and has been updated to include growth and development in the artisan distilling space over the past decade. 

The Art of Distilling, Revised and Updated is the consummate insider's guide to distilling and its techniques.
About the Author
Distiller, publisher, photographer, brewer, and raconteur, author Bill Owens is president of the American Distilling Institute. His website, www.distilling.com, is the most comprehensive source of industry and hobby information for the distilling enthusiast. Owens spent nearly two decades as the publisher of Beer and American Brewer magazines and he is the author of How to Build a Small Brewery.