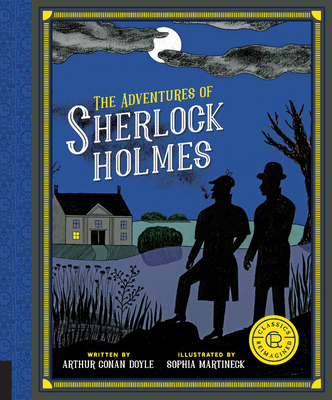 Classics Reimagined, The Adventures of Sherlock Holmes (Paperback)
Rockport Publishers, 9781631595585, 320pp.
Publication Date: June 26, 2018
* Individual store prices may vary.
Description
Award-winning artist Sophia Martineck takes readers on a lusciously illustrated journey to 221B Baker St. and the compelling stories of Sir Arthur Conan Doyle's Sherlock Holmes, now in paperback. The stories take on a whole new meaning when accompanied by Martineck's mystical, colorful interpretations.

The Classics Reimagined series is a library of stunning collector's editions of unabridged classic novels illustrated by contemporary artists from around the world. Each artist offers his or her own unique, visual interpretation of the most well-loved, widely read, and avidly collected literature from renowned authors. From Frankenstein to The Wonderful Wizard of Oz and from Jane Austen to Edgar Allan Poe, collect every beautiful volume.
About the Author
Sophia Martineck is an illustrator/artist living in Berlin. In 2010 she received the Art Directors Club Young Guns Award (for visionary artists under 30). In 2009 the notable Hans-Meid-Foundation (for German book illustration) awarded her illustrations for R. L. Stevenson's The Body Snatcher and Carson McCullers' The Heart Is A Lonely Hunter. Sophia has a great storytelling style that draws you into her world. Her style will give Holmes new energy, unlike anything you've seen from the master detective.