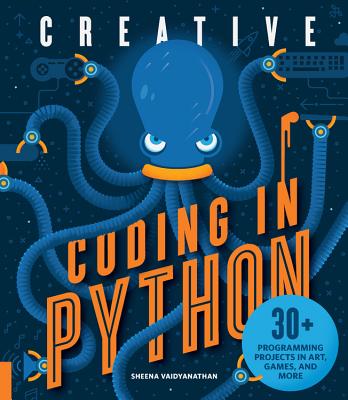 Creative Coding in Python
30+ Programming Projects in Art, Games, and More
Paperback

* Individual store prices may vary.
Praise For Creative Coding in Python: 30+ Programming Projects in Art, Games, and More…
 "This book can really guide any beginner who wants to work with Python and learn to create pretty much anything, but even more, creating games as well as art!"
- Test Try Results
—
-
"Beginners as well as the more adept should find this of interest." - Booklist
- Ilene Cooper, Book
—
-
"This book discusses practicalities, like how to save your file, while giving kids access to a powerful tool. No matter what their particular interests are, readers will be amazed at what they can do by the end of this book." - BookRiot
- BookRiot
—
-
Quarry Books, 9781631595813, 144pp.
Publication Date: December 18, 2018
About the Author
Sheena Vaidyanathan teaches a Python-based computer science class to 11- to 13-year-olds and is the Computer Science Integration Specialist in the Los Altos School District, in Los Altos, California, where she has also designed computer science curricula, conducted professional development for the K–8 STEM program, and taught pre-algebra, digital design, and visual art. Vaidyanathan is also the program director for the computer science professional development programs at Krause Center for Innovation, Foothill College, where she teaches teachers to code in Python, Scratch, and other languages. Over the years, hundreds of students and teachers have learned to code in her classes. She shares her many years of experience teaching coding by writing articles, presenting at conferences, and providing best practices and student work on her personal website, computersforcreativity.com. Prior to teaching, Vaidyanathan worked in Silicon Valley for more than 10 years as a computer scientist and technology entrepreneur. She lives in Los Altos, California.