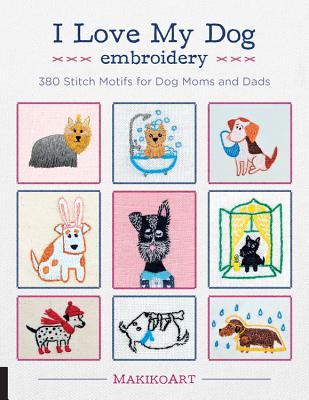 I Love My Dog Embroidery (Paperback)
380 Stitch Motifs for Dog Moms and Dads
Quarry Books, 9781631596131, 120pp.
Publication Date: December 11, 2018
* Individual store prices may vary.
Description
I Love My Dog Embroidery is a collection of 380 adorable dog-themed stitch motifs for pooch parents and their beloved fur babies, with project ideas, how-tos, and templates.

Created by embroidery artist MakikoArt and six other amazing embroidery artists, this "dog fanciful" collection of stitch motifs celebrates all things canine. With this lovely embroidery guide, you can create all manner of pups, including:
The sweet Labrador retriever, fluffy poodle, noble German shepherd, and many others
Dogs doing what they do best—classic poses, postures, and tricks—like "roll over," "give me your paw," and the ever-popular "rub my tummy"
Pooches disguised as people—the farmer, the artist, the businessman—and who can resist the sneaky but lovable mailman?
Mutts in different styles and shapes, including borders, frames, and alphabets
You'll also find guidance on how to customize a motif to fit your favorite Fido, plus a gallery of project ideas for showcasing your stitches. So grab a needle and floss and take everything in your home and wardrobe from drab to double-dog fabulous!

With designs contributed by:
Chloe Redfern Embroidery / Chloe Redfern
How Could You? Clothing / Mia Alexi 
Insanitynice / Valentina Castillo Mora
Miho Starling / mipomipo handmade
Solipandi / Anja Lehmann
Stitch People / Elizabeth Dabczynski
About the Author
Oksana Kokovkina—better known to her fans as MakikoArt—is a textile artist and jewelry designer noted for her naive and whimsical animal embroidery motifs, especially her hand-stitched custom pet portrait brooches. Born in St. Petersburg, she currently lives in Vienna, Austria.
Praise For I Love My Dog Embroidery: 380 Stitch Motifs for Dog Moms and Dads…
With profusely illustrated and thoroughly 'user friendly' step-by-step instructions, I Love My Dog Embroidery is an especially and unreservedly recommended addition to personal and community library needlecraft instructional reference collections.
- Midwest Book Review