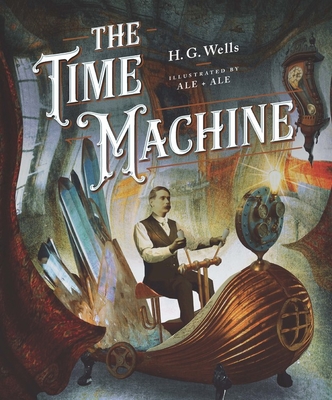 Classics Reimagined The Time Machine (Hardcover)
Rockport Publishers, 9781631597282, 208pp.
Publication Date: May 14, 2019
* Individual store prices may vary.
Description
Retold with stunning modern illustration by the studio team Ale + Ale, The Time Machine is a masterpiece of invention and storytelling from the father of science fiction, H. G. Wells.

In this unabridged classic, the time-traveling protagonist is propelled by his machine to the distant year of 802,701 AD. To his horror, he finds only a decaying Earth that is being gradually swallowed by the Sun, and where two strange species—the delicate Eloi and the fierce, subterranean Morlocks—inhabit an eerie dystopia. The Time Machine is a must-read for any science-fiction fan.

The Classics Reimagined series is a library of stunning collector's editions of unabridged classic novels illustrated by contemporary artists from around the world. Each artist offers his or her own unique, visual interpretation of the most well-loved, widely read, and avidly collected literature from renowned authors. From Frankenstein to The Wonderful Wizard of Oz and from Jane Austen to Edgar Allan Poe, art lovers and book collectors alike will not be able to resist owning the whole collection.
About the Author
Herbert George "H.G." Wells (1866–1946) was a prolific English writer best known for his timeless science fiction novels, including The Time Machine, The Island of Doctor Moreau, and The War of the Worlds. After winning a scholarship to the prestigious Normal School of Science in London, where he studied biology and helped found The Science School Journal, he became a teacher and embarked on an impressive literary career that resulted in four Nobel Prize nominations. Wells also wrote extensively on politics and social matters and was one of the foremost public intellectuals of his day.
The Italian artists Alessandro Lecis and Alessandra Panzeri have been a studio team, Ale + Ale, since the year 2000. Although their fantasy life has them creating collages in a spaceship orbiting earth, their studio is actually located in Paris, France. Seeking an adventure in 2010, these two Italian friends, packed up for Paris with their picture files, computers, and a French dictionary. From children's books to corporate imagery, Ale + Ale's collaborative work has garnered many international awards. www.aleplusale.com