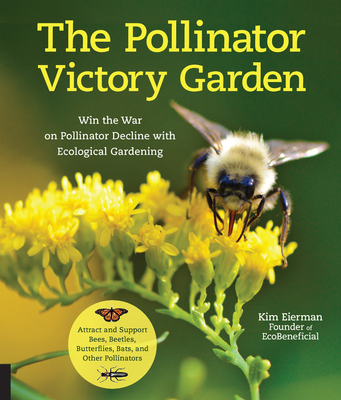 The Pollinator Victory Garden
Win the War on Pollinator Decline with Ecological Gardening; Attract and Support Bees, Beetles, Butterflies, Bats, and Other Pollinators
Paperback

* Individual store prices may vary.
Description
The passion and urgency that inspired WWI and WWII Victory Gardens is needed today to meet another threat to our food supply and our environment—the steep decline of pollinators. The Pollinator Victory Garden offers practical solutions for winning the war against the demise of these essential animals.

Pollinators are critical to our food supply and responsible for the pollination of the vast majority of all flowering plants on our planet. Pollinators include not just bees, but many different types of animals, including insects and mammals. Beetles, bats, birds, butterflies, moths, flies, and wasps can be pollinators.

But, many pollinators are in trouble, and the reality is that most of our landscapes have little to offer them. Our residential and commercial landscapes are filled with vast green pollinator deserts, better known as lawns. These monotonous green expanses are ecological wastelands for bees and other pollinators.

With The Pollinator Victory Garden, you can give pollinators a fighting chance. Learn how to transition your landscape into a pollinator haven by creating a habitat that includes pollinator nutrition, larval host plants for butterflies and moths, and areas for egg laying, nesting, sheltering, overwintering, resting, and warming. Find a wealth of information to support pollinators while improving the environment around you:
 •  The importance of pollinators and the specific threats to their survival•  How to provide food for pollinators using native perennials, trees, and shrubs that bloom in succession•  Detailed profiles of the major pollinator types and how to attract and support each one•  Tips for creating and growing a Pollinator Victory Garden, including site assessment, planning, and planting goals•  Project ideas like pollinator islands, enriched landscape edges, revamped foundation plantings, meadowscapes, and other pollinator-friendly lawn alternatives
 The time is right for a new gardening movement. Every yard, community garden, rooftop, porch, patio, commercial, and municipal landscape can help to win the war against pollinator decline with The Pollinator Victory Garden.
Praise For The Pollinator Victory Garden: Win the War on Pollinator Decline with Ecological Gardening; Attract and Support Bees, Beetles, Butterflies, Bats, and Other Pollinators…
"Leave it to Kim Eierman to come up with a unique call to action - one that worked in the past when our society was threatened by war, and one that will work again to defeat the very real threat of pollinator declines. Kim has thought of everything with a truly comprehensive guide to improving the lot of our pollinators at home. Make a Pollinator Victory Garden and join the effort to save our most essential creatures!"—Dr. Douglas Tallamy, author of Bringing Home Nature and Nature's Best Hope

"This book provides an in-depth education of how pollination works and what pollinators need to thrive, and then translates that information into actionable steps to take in the garden."—Horticulture Magazine

"If everyone followed Kim Eierman's advice, our pollinator crisis would be solved. Her detailed, compassionate book provides actionable steps for helping not only much-loved garden visitors like butterflies and bees but also the less appreciated beetles, flies and other pollinating creatures. Her well-written, beautifully illustrated book is a call to action: if creating a victory food garden for humans was a patriotic act during World War II, then creating a victory garden for pollinators is an equally important citizen duty today."—Nancy Lawson, author of The Humane Gardener, Nurturing a Backyard Habitat for Wildlife

"The Pollinator Victory Garden is a book for these times.  Kim Eierman empowers readers with ideas, direction and the inspiration they need to create beautiful and eco-friendly habitats for many different pollinators.  Creating healthy, diverse and chemical free habitats are essential steps in solving pollinator decline and The Pollinator Victory Garden guides you towards creating your own lovely garden habitat."—Peter Nelson, Director of The Pollinators, filmmaker and beekeeper

"God knows pollinators need every edge we can give them--and this book will tell you precisely how to use your patch of land, however small, to make a real difference!"—Bill McKibben, author, educator, environmentalist and co-founder, 350.org

"With so many pollinator species at risk around the globe, The Pollinator Victory Garden could not be more timely. Please put this thoughtful, easy-to-read book to use in making your own yard a haven for pollinators."—Phyllis Stiles, Founder, Bee CIty USA

Read this book as if your life depended on it—and it does: No pollinators = no plants = no people. Kim Eierman turns the table on the dismaying facts about pollinators by offering positive steps each of us can take to make a difference. Her passion shouts: "gimme a V…"—or, more aptly "gimme a Bee." —Carol Capobianco, Director, The Native Plant Center

"It's a well written, well laid out book with lots of tips to help even a first time gardener. It's a book anyone who wants to help should have in their library."—Broken Teepee

"...packed with useful information, charts, diagrams, and gorgeous photos."—Dear Author

"...provides all the advice and information you'll need to get started on your own pollinator project."—Connecticut Gardener

"With The Pollinator Victory Garden by Kim Eierman you can give pollinators a fighting chance. Provides a wealth of information to support pollinators while improving the environment."—Green Profit

"Every beekeeper should be thinking like this. Kim goes a long, long way to making it possible to make it happen for you. Try this book this year."—Kim Flottum, Bee Culture

"If you want to learn how to protect your pollinators and make sure they are taken care of throughout the year, I highly recommend getting The Pollinator Victory Garden!"—Susan Bewley, Budget Earth

"With Eierman's guidance, easy to read charts, plants list, and even a Pollinator Victory Garden checklist, you can create a bio-diverse native habitat that can make a difference to the pollinators of the world."—EcoLandscaping.org

"...shares a wealth of information to support pollinators while also improving the environment around you."—Michigan Gardener
Quarry Books, 9781631597503, 160pp.
Publication Date: January 7, 2020
About the Author
Kim Eierman is an environmental horticulturist and landscape designer specializing in ecological landscapes and native plants. She is the Founder of EcoBeneficial, a horticulture consulting and communications company in Westchester County, New York. Kim teaches at the New York Botanical Garden, Brooklyn Botanic Garden, The Native Plant Center, Rutgers Home Gardeners School, and advanced education classes for Master Gardeners. An active speaker nationwide on many ecological landscaping topics, she also provides horticultural consulting and ecological design to commercial, municipal, and retail clients.
In addition to being a Certified Horticulturist through the American Society for Horticultural Science, Kim is an Accredited Organic Landcare Professional, a Steering Committee member of The Native Plant Center, and a member of The Ecological Landscape Alliance and the Association for Garden Communicators (GWA). Kim received the Silver Award of Achievement from the Garden Writers Association in 2014, 2015, and 2017.