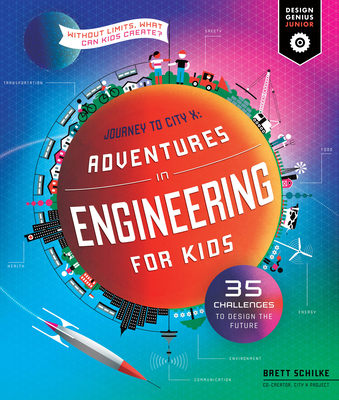 Adventures in Engineering for Kids
35 Challenges to Design the Future - Journey to City X - Without Limits, What Can Kids Create? (Design Genius Jr.)
Paperback

* Individual store prices may vary.
Description
Design Genius Jr.: Adventures in Engineering for Kids invites kids to take charge of the world they wish to create by designing inventions and solutions to challenges faced in an imaginary City X, the first human settlement on another planet.

Explore the future through problem solving, design thinking, and engineering. This adventure takes children and adults on an epic journey: humans are leaving Earth, arriving at a new planet, and creating the first settlement there, City X. It's a journey of historic proportions, to a fledgling city on a distant planet, where humanity has a chance to start fresh and design a future that works for everyone.

In settling another planet, humans discover a host of challenges, much like those faced on Earth: challenges related to issues of energy, environment, transportation, security, food, safety, and health. Empowered by design thinking and advanced technology, their problems are to be solved by a vast team of young designers on Earth (your children!).

With this book, you and yours will be able to develop the tools to explore, understand, imagine, create, and share your own irresistible futures through accessible real-world activities and awesome ideations.

Without limits, what can kids create?

Design thinking—creative problem solving—will be crucial to resolving the global challenges in business, politics, and the environment facing the next generation. Each book in the Design Genius Jr. series teaches kids this important skill through fun, hands-on projects in a single area of design that challenge them to identify problems, explore possibilities, test ideas, and then come up with original solutions.
Praise For Adventures in Engineering for Kids: 35 Challenges to Design the Future - Journey to City X - Without Limits, What Can Kids Create? (Design Genius Jr.)…
A masterpiece of science fiction that teaches youngsters and parents alike essential lessons about designing the best future for humanity. A must buy and essential reading for the young and older among us.
- Philip Zimbardo, Professor Emeritus in Psychology, Stanford University
It's always fun for kids to think about the future, but it's not easy to keep the conversation going because everything becomes complicated. This book changes the rules—figuring out the future of transportation, food, energy, the environment and more—it all becomes an elaborate game. And not just a game, but a serious exercise in scenario planning, decision sciences and collaboration disguised as a game. What a great way to encourage kids to use their imagination to invent the future—I only wish there was a similar book for adults (who probably need it even more than kids do).
- Howard Blumenthal, Senior Scholar,The University of Pennsylvania, Creator/Producer of "Where in the World is Carmen Sandiego?"
Rockport Publishers, 9781631598395, 144pp.
Publication Date: May 26, 2020
About the Author
Brett Schilke is a globally-recognized expert on the future of learning and the future of work, and is the co-creator of the City X Project, a problem solving, design, and engineering course for kids that's used in over 75 countries and nationwide in China. He is an advisor to multiple education startups, and has designed future-focused curriculum and learning experiences for the United States Congress and the UAE Ministry of Education. Brett also currently leads the Task Force for the Future of Work for the G20 Engagement Group on Youth.
Currently serving on the faculty of Singularity University in Silicon Valley, Brett designs and leads initiatives to redesign the global K12 education system. He regularly writes on education and the future of youth on various media properties and averages over 30 global speaking engagements each year. Design Genius Jr. Engineering: 40 Challenges to Design the Future as You Journey to City X is his first book. He lives in Palo Alto, California.