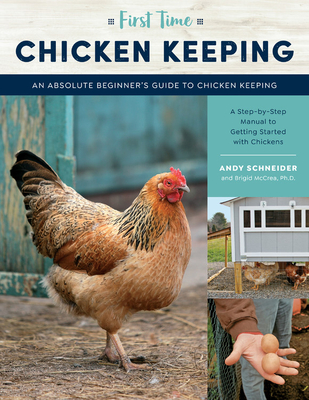 First Time Chicken Keeping (Paperback)
An Absolute Beginner's Guide to Keeping Chickens
Quarry Books, 9781631599538, 128pp.
Publication Date: August 11, 2020
* Individual store prices may vary.
Description
Filled with down-to-earth, common-sense advice, this absolute beginner's guide for first-time chicken keepers teaches you everything you want and need to know about raising a backyard flock.

Keeping backyard chickens can be fun and simple, even if you have limited backyard space. To get started keeping backyard poultry, you'll learn:
The benefits of a backyard chicken flock
The art of incubation
Living with brooding hens
Setting up coops and runs
Proper poultry nutrition
Understanding your chickens' health and wellness
This fun, comprehensive guide is a perfect fit for your busy lifestyle!

Each book in the First Time series distills how-to guidance and advice from an expert on a specific topic into targeted step-by-step instruction geared toward the absolute beginner.
About the Author
Andy Schneider, better known as the Chicken Whisperer, has become the go-to guy for anything chickens. Over the years, he has helped a countless number of people start their very own backyard flocks. He is not only a well-known radio personality, as host of the Backyard Poultry with the Chicken Whisperer radio show, but also the author of the books The Chicken Whisperer's Guide to Keeping Chickens, Chicken Fact or Chicken Poop, and The Chicken Whisperer's Guide to Zero Waste Chicken Keeping and a contributor for Mother Earth News, Grit magazine, and Farmers' Almanac. He is the national spokesperson for the USDA-APHIS Bio-Security for Birds Program and the Founder/Organizer of the Atlanta Backyard Poultry Meetup Group and many other Meetup Groups around the United States. He has been featured on CNN, HLN, Fox, ABC, CBS, NBC, and NPR, as well as in The Wall Street Journal, Time magazine, The Economist, USA Today, New Life Journal, and other local and national publications. Andy has also been traveling around the US on the Chicken Whisperer Tour, educating people about the many benefits of keeping a small backyard flock of chickens. Andy and his wife Jen keep 35 chickens on their property just north of Atlanta, Georgia. Visit him online at chickenwhisperer.com.