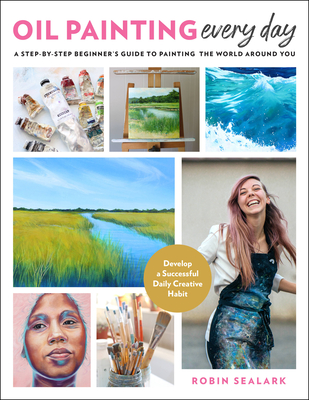 Oil Painting Every Day
A Step-by-Step Beginner's Guide to Painting the World Around You - Develop a Successful Daily Creative Habit
Paperback

* Individual store prices may vary.
Description
Discover a new approach to oil painting that takes the stuffiness out and puts the fun back in. Learn how to paint vibrant florals, landscapes, seascapes, portraits, and more, and see your skills improve.
Oil Painting Every Day
shows you how to
translate what you see into captivating paintings
. Begin with a
solid understanding of oil paint
and essential supplies, then try
easy exercises
that will train your eye to
see the world like an artist
.
From there, you'll learn how to
capture beautiful details in landscapes and still lifes
and
create shadows and depth to make your work come alive
. Refine those details to
paint waves, clouds, and floral scenes
, and get all the tips, tricks, and techniques you need for a
doable portrait to get you started in figurative work
.
Get great ideas for
creating engaging compositions
while capturing the world around you, and discover how a variety of simple brushstrokes add energy and life to a piece.
In this book you'll find:
How drawings and underpaintings can give your paintings a boost
How to care for your tools and materials
Tips and techniques for working in sketchbooks and on canvas
The benefits of maintaining a consistent art practice
How to paint from life and photographs
Ways to build cohesive compositions that tell a story
Oil Painting Every Day
is your all-access pass to oil painting.
Praise For Oil Painting Every Day: A Step-by-Step Beginner's Guide to Painting the World Around You - Develop a Successful Daily Creative Habit…
"Beautifully and effectively illustrated throughout, Oil Painting Every Day is the ideal DIY instructional guide and manual for the novice or beginning artist wanting to work with oil paints."—Midwest Book Review
Quarry Books, 9781631599941, 128pp.
Publication Date: March 22, 2022
About the Author
Robin Sealark graduated with a bachelor's degree in fine arts and an art education certification from Brigham Young University in 2013. She spent her undergraduate years specializing in oil painting and hyper-realistic portraiture, but shifted her focus to landscapes, seascapes, and skies over time. Growing up on Long Island and exploring Utah over the last ten years inspired her to bring dramatic natural light and beauty to her paintings. Robin has established strong followings on Instagram and YouTube, where she frequently posts her work, process videos, tips, tutorials, relatable sketches, and advice for creatives. Through her personal work and teaching, she seeks to emphasize the idyllic beauty found in all subject matter through deepened observation and a discerning artist's eye. Her shared projects and educational resources aim to create accessible paths to the basic painting and drawing techniques, materials, and tools that make creative exploration and fine art rendering available to anyone. There's no gatekeeping here! Robin believes that a healthy, creative life is something everyone can access with full breaths, positive community, art appreciation, education, and regular practice.

Instagram: @robinsealark
YouTube: Robin Sealark
Website: robinsealark.com