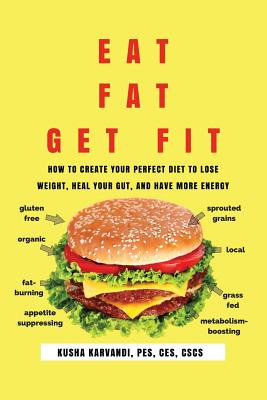 Eat Fat, Get Fit: How to Create Your Perfect Diet to Lose Weight, Heal Your Gut, and Have More Energy (Paperback)
How to Create Your Perfect Diet to Lose Weight, Heal Your Gut, and Have More Energy
Tck Publishing, 9781631610271, 188pp.
Publication Date: April 18, 2017
Description
How to Create Your Ideal Body Once and For All When you're dieting and trying to lose weight, it's reasonable to want to lose body fat in specific areas. You want flat abs, tighter tummies, leaner legs, or less flabby arms. But often you're told it isn't possible. However, I have seen my clients get the results they want faster than ever with my individualized approach-helping them become their own diet detective to find which foods work best for their body. And now I want to share it with you so you can have the body and confidence you desire. Avoiding Diet Myths and Short-Term Gains That Do More Harm Than Good The problem with the health and fitness industry is that it makes people think they are weak and that the best way to achieve the body they want is to suck it up and push harder. Just look at the most popular TV shows like the Biggest Loser where the trainers exhaust the participants with 8 hours of exercise per day and put them on an extremely low-calorie diet. But if more is better, why do the majority of these participants rebound and gain all of their weight back and then some? The truth is you're stronger than you think. It isn't that you somehow lack willpower or discipline; it's that you just don't have the right heuristics yet, which a mentor of mine once defined as the ability to make a decision based on limited amounts of information. The beauty of a heuristic is that it doesn't drain your willpower like calorie-counting or other fad diets may. In this book, I'll share with you how to craft your own diet heuristic so you can make good eating decisions no matter where you are or how much willpower you have. How to Create Unstoppable Momentum The hardest part about getting in shape and losing weight is taking the first step, so don't worry if you've never been able to achieve your weight loss goals before. We tend to believe failure begets failure, but nearly all success stories begin with generous amounts of failure. If you've tried diets before that didn't work, don't worry because what I'm going to teach you isn't a diet-it's a way of thinking. With the right perspective, you'll be able to look at nutrition and fat loss differently and make decisions that will get you results for life. No More Weight Loss Gimmicks I know what you're thinking: this sounds like just another "quick fix" weight loss gimmick. How could it be that you can eat flavorful, satiating foods and actually lose weight? Believe me, I thought the same thing when I began to study nutrition in depth years ago. But what I found is that our bodies aren't programmed for obesity. Of course, everyone has their own individual, natural set point when it comes to weight. But when we began eating unnatural, processed foods, vegetables oils and refined carbohydrates for example, we shift the nature of our body toward fat storage rather than fat burn. By avoiding foots that force your body to store fat, you can lose weight quickly and easily. In this book, I'm going to provide you with the tools to eat well while reaching your goals quickly. While your naysayers are counting calories, feeling deprived, and still struggling to lose weight, you'll be vibrant, full of energy and supercharging your metabolism for sustained fat loss.
Advertisement