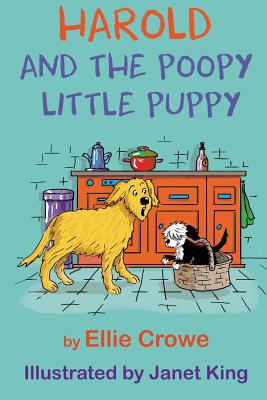 Harold and the Poopy Little Puppy (Paperback)
Tck Publishing, 9781631610530, 30pp.
Publication Date: August 29, 2018
* Individual store prices may vary.
Description
"When a New Puppy Joins His Home, Harold Learns About Love" It's hard to be a good dog, but Harold, the golden retriever, really tries. Then the Dad brings home Prince, a silly little puppy that the Dad says is smart and brave. Prince "Smart and brave " Harold can hardly believe his ears And, even worse, when Prince does a doggy-doo right in the house, the Dad blames Harold Harold thinks Prince is a poopy little puppy. How is he going to live with him in his house? Kids with baby brothers and sisters will sympathize with Harold. This book is laugh-out-loud funny for kids and parents. Perfect for early readers and the Common Core.
About the Author
Ellie lives with her husband, Will, and their children, Juliet, Caroline, and Adam, in Honolulu, Hawaii and Santa Barbara, California. She loves reading, writing and exploring. When she was growing up, she wanted to write books. And now she does! Ellie Crowe is the author of more than 22 books, including: Surfer of the Century, The Life of Duke Kahanamoku (Lee and Low NY), Nelson Mandela, The Boy Called Troublemaker (StarWalk Kids NY) Wind Runner, StarWalk Kids NY) Hoku the Stargazer, (Island Heritage, HI) Hardcore Inventing, (Skyhorse Publishing) The Boy Who Tricked the Ghosts (Island Heritage) Kamehameha the Boy Who Became a Warrior King (Island Heritage) Hide and Seek Go To Sleep, (Island Heritage, Hawaii) Naptime by the Sea (Island Heritage HI)