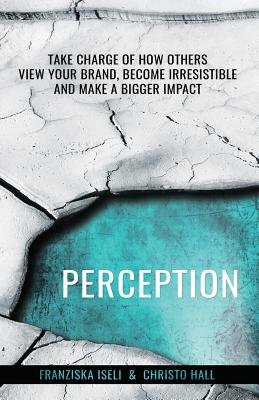 Perception (Paperback)
Take Charge of How Others View Your Brand, Become Irresistible, and Make a Bigger Impact
Tck Publishing, 9781631619816, 212pp.
Publication Date: July 18, 2016
* Individual store prices may vary.
Description
Sure, being the best sounds great. But simply being the best is no longer enough to position you at the front of the pack. You also need to be perceived as being the best. And that's why Perception is so important. With this book, authors Franziska Iseli and Christo Hall show you how to harness the power of perception to achieve success - whether you are leading a small business, trying to climb the career ladder, or simply working to achieve greater success in relationships and improve your personal life. Perception is a book primarily about small business marketing but with a unique approach. Rather than pushing business owners to spend more money on brochures or advertising or marketing campaigns, Perception focuses on how your prospects think. Especially how they think about you. Because it doesn't matter how many flyers you print or how much you spend on ads. If the perception you are generating doesn't resonate with your prospects and reflect your true value, no one will buy from you. The approach we take is first to figure out how you want to be perceived. You sure don't want your competitors or anyone else to be defining how you are perceived (anyone remember the Pepsi-Coca Cola challenge?). And, even worse - you don't want your prospects to have no perception of you at all Perception teaches you to take charge: to define and then create the perception of you or your business that will lead you to the lasting success you desire. Perception is aimed mainly at small business owners and entrepreneurs who are looking towards defining a brand strategy targeted at increasing business growth. However, the strategies behind influencing perception outlined in this book also work to shape our personal lives as well. You'll also learn how you can alter your "internal perception" (how you view yourself) as well as your "external perception" (how others view you) to change the trajectory of your own life. By harnessing the power of perception, you can gradually change your own reality: what type of person you are, who you hang out with, and what goals suddenly appear within your reach. More About The Book In Perception, authors Franziska and Christo combine their wacky sense of adventure and penchant for story-telling with their common-sense approach and stellar track record at growing businesses. Not only have the authors expanded their own marketing company, Basic Bananas, from a small two-person affair to a successful global business (receiving numerous awards for their entrepreneurship and innovation along the way), they have also helped hundreds of small business owners increase their sales and grow their businesses (while managing to have a lot of fun ) So don't delay If you have ever wished that people would only realize how great your product is, or recognize how good you are at the service you provide, or understand what an amazing person you really are... this book is your key. Perception changes everything. Perception can help you turn what used to seem impossible into reality. So scroll up right now and click "Buy" button to unlock your key and discover how the power of influencing perception can help you achieve the success you want and deserve, whether in business, in your career, or in your personal life.