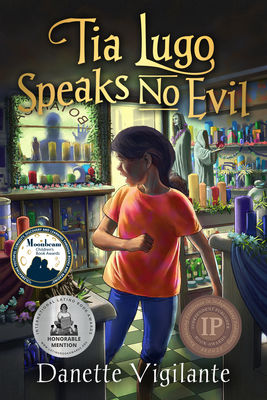 Tia Lugo Speaks No Evil
Paperback

* Individual store prices may vary.
Description
Tia Lugo has a deadly secret.
Tia Lugo considers herself an ordinary thirteen-year-old girl. She just wants to enjoy the end of summer, which means hanging out with her best friend and neighbor, Julius, and ignoring her Puerto Rican grandmother's embarrassing reliance on creepy candles, weird-smelling herb bundles, and eerie statues--all available for sale at the nearby botanica. But when Tia witnesses a murder late one night from her bedroom window, everything changes in an instant.
Now, Tia is terrified to tell anyone what she's seen. What if the killer comes after her too? He knows where she lives. Even worse, Tia believes he's sending her secret messages, reminding her to stay quiet. Desperate to keep herself and her family safe, Tia turns to the last place she ever thought she'd go: her grandmother's favorite shopping spot, the botanica.
Jolly Fish Press, 9781631635755, 206pp.
Publication Date: August 17, 2021