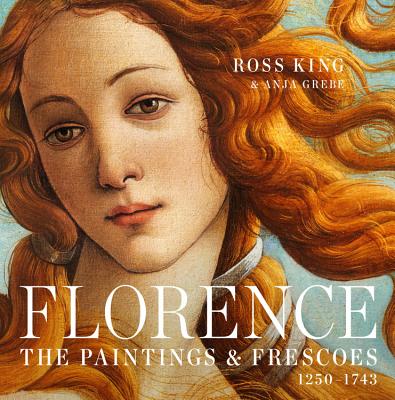 Florence (Hardcover)
The Paintings & Frescoes, 1250-1743
Black Dog & Leventhal, 9781631910012, 696pp.
Publication Date: October 20, 2015
Other Editions of This Title:
Paperback (3/31/2020)
* Individual store prices may vary.
Description
New York Times bestseller
A magnificent, never-before-published collection of every painting and fresco on display in the Uffizi, the Galleria Palatina of the Pitti Palace, the Accademia, and the Duomo, and more -- nearly 2,000 works of art -- all presented in a beautiful slipcased package.

This stunning book provides a comprehensive look at the masterpieces housed in the Renaissance art capital of the world including the art of Giotto, Leonardo da Vinci, Michelangelo,
Ghirlandaio, Correggio, Botticelli, Caravaggio, Titian, Rembrandt, van Dyck, El Greco, and hundreds more.

Ross King, bestselling author of Brunelleschi's Dome and Michelangelo and the Pope's Ceiling, explores the history of art in Florence through seven introductory essays connecting the paintings, politics, the every day life of Florentines and how they influenced each other. Art historian Anja Grebe (author of The Louvre and The Vatican), highlights two hundred and fifty of the most iconic and significant paintings and frescoes around the historic city.
This stunning showcase of the art capital of the world also includes two removable posters of Florence -- one from the Renaissance and one from the present day.



About the Author
Ross King is the author of the bestselling Brunelleschi's Dome and Michelangelo & the Pope's Ceiling, as well as the novels Ex-Libris and Domino. He lives in England, near Oxford.
Anja Grebe teaches art history at the University of Erlangen- Nuremberg/Germany. She is taking part in numerous international research projects and exhibitions and has published extensively on medieval and modern art history. Grebe is the author of The Louvre: All the Paintings and The Vatican: All the Paintings. She lives in Erlangen, Germany.

Praise For Florence: The Paintings & Frescoes, 1250-1743…
"...an art lover's dream come true--a collection of nearly 2,000 images that includes every painting and fresco on display in the Uffizi, the Galleria Palatina of the Pitti Palace, the Accademia and the Duomo, and works from 28 additional museums and churches....It's fascinating to see these treasures of the Western world collected in one volume, with page after page of magnificence, including the works of Uccello, da Vinci, Correggio, Titian, Michelangelo and more. You won't have a better tour unless you visit the city itself--and even then, reading this book first would be worthwhile."—BookPage

"For 800 years Florence, Italy, has been a sacred city whose very walls breathe beauty. In vivid essays and more than 2,000 lush images, this glorious book covers the great collections of the Uffizi, the Pitti Palace, the Accademia and the Duomo, plus key works in 28 of the city's additional museums and churches. The lively text explains Florentine politics, patronage, street life, banking, international trade and the effect of its wars, plagues and religious squabbles. Fascinating."—Star Tribune

"You needn't travel to Florence to tour the masterpieces created by some of the world's greatest artists. "Florence: The Paintings & Frescoes: 1250 to 1743" by Ross King and Anja Grebe brings more than 2,000 images of them to you, along with a comprehensive guide"—The Sacramento Bee

The paintings and frescoes of the birthplace of the Renaissance get a lavish, full-color treatment in this new book from Canadian historian and novelist Ross King, whose previous work includes "Brunelleschi's Dome: The Story of the Great Cathedral in Florence."...If you're looking for a gorgeous coffee-table book, this one is hard to beat."—Austin American-Statesman

"The next best thing to a Tuscan sightseeing trip is a tour through the pages of "Florence: The Paintings & Frescoes, 1250-1743"...which opens the doors of the Uffizi, the Accademia, the Duomo and countless Florentine churches to the armchair traveler."—Newsday