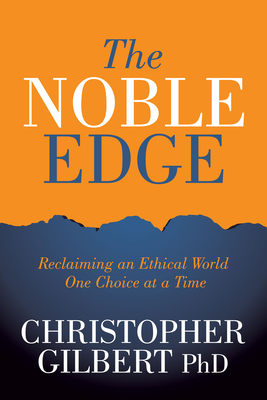 The Noble Edge
Reclaiming an Ethical World One Choice at a Time
Paperback

* Individual store prices may vary.
Description
Being trusted is the foundation of our greatest personal freedoms.
But how can we make trustworthy choices in a world where there are constant personal, social and workplace pressures to ignore what is right in favor of 'success'.
How can we rid ourselves of the distracting belief that 'good' people make the good decisions, and 'bad' people make the unethical ones, while we all climb up and down the moral ladder every day?
The Noble Edge answers these and many other crucial questions about living a life of integrity and honest success. The book invites readers into an inspirational conversation about truth and trust spiced with an abundance of personal stories, humor, and invaluable guidance about making consistently right choices. Far from the usual academic fog, Dr. Christopher Gilbert makes ethics enjoyable, meaningful, and accessible to everyone. In the end, readers are empowered by three well-researched steps and nine vital principles to make their relationships more authentic, their workplaces more transparent and their lives more meaningful. The Noble Edge provides a clear pathway for leading an ethically driven life.
Morgan James Publishing, 9781631954054, 254pp.
Publication Date: August 10, 2021