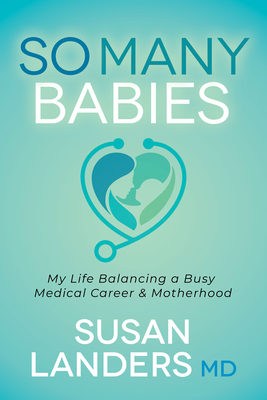 So Many Babies
My Life Balancing a Busy Medical Career & Motherhood
Paperback

* Individual store prices may vary.
Description
So Many Babies describes one overworked physician-mother as she journeys through medicine and motherhood raising three children.
While practicing medicine in the NICU full time for over thirty years, Susan Landers, MD met and managed many trials raising her three children, trials typical for many working mothers, such as breastfeeding, sibling rivalry, bedwetting, dyslexia, a gifted child, ADHD, a dog bite, and an adolescent eating disorder. The challenges of a full time practice and many twenty-four-hour shifts in the high-stress NICU always complicated issues with Susan's children, but also provided her the privilege of caring for thousands of critically ill newborn infants.
Susan always felt that her career and accomplishments in medicine were equally as rewarding as raising three children. It was the constant attempt to balance these two worlds - physician and mother - that was so daunting a task. Susan believes that most, if not all, working mothers are similarly challenged as they attempt to manage their work and being a good mother. So Many Babies describes Susan's experiences of finding resilience and endurance throughout her career as a physician and mother. It is an entertaining and reassuring story for working mothers.
Praise For So Many Babies: My Life Balancing a Busy Medical Career & Motherhood…
Kirkus Reviews:
A neonatal intensive care physician describes the demands of her practice and the difficulties of achieving work-life balance in this debut memoir.
For 35 years, Landers took care of premature babies and sick newborns in her medical practice. She tells of growing up in South Carolina and moving to Texas, where she completed her medical training, married, and raised three children. The central focus of this memoir, however, is her daily challenge of providing critical patient care, in which she was regularly required to make life-or-death decisions, while also dealing with the requirements of motherhood. Along the way, Landers details some of her standout cases, altering the names of patients and their parents to protect their identities; she discusses the consequences of maternal heroin addiction, a birth of quintuplets, and her treatment of newborn with a depressed skull fracture. One of her toughest cases, she says, involved "a tiny African American baby born at 27 weeks' gestation, weighing 480 grams (less than one pound)." After becoming a mother, Landers found that, despite her expertise as a neonatologist, she still had much to learn about living with babies. She candidly describes the ways that she felt that her working life came in conflict with her role as a mother; for example, she writes about the difficulty of breastfeeding and working full time, as well as the dangers of burnout. Landers also considers broader issues, including her views that women approach the medical profession differently than men do.
Landers' approach to writing is concise and forthright. When describing caring for newly admitted babies on radiant warming beds, for instance, she notes, "This work environment tended to dry out your eyes or burn the top of your head….During long procedures, my contact lenses felt like potato chips, and I found myself drenched in sweat." It's a no-nonsense style that effectively highlights the physical and emotional strains of working in a NICU. That said, Landers tends to rely on medical jargon, and although she often provides explanations for lay readers, some passages may be obscure to the uninitiated: "Emily had an isolated intestinal perforation—not necrotizing enterocolitis, a severe bowel inflammatory condition." The power of this memoir, however, lies in its honesty, as Landers is never afraid to address her own shortcomings. A horrifying incident when she lost patience and slapped her son's legs repeatedly prompts a revealing discussion of the author's childhood, in which her father was a "harsh disciplinarian," and her own determination to avoid providing physical punishment as a parent. At the close of the memoir, the author offers a list of what she considers to be the key characteristics for a career in critical care: "Grit, overachieving, and self-discipline are powerful predictors of a successful practice." Such observations will prove useful for both new and aspiring physicians, but the memoir as a whole will prove to be illuminating for anyone striving to be a caring and effective parent while pursuing a high-stress career.
Frank, insightful writing about neonatal medicine and being a parent.
Morgan James Publishing, 9781631954504, 230pp.
Publication Date: September 14, 2021