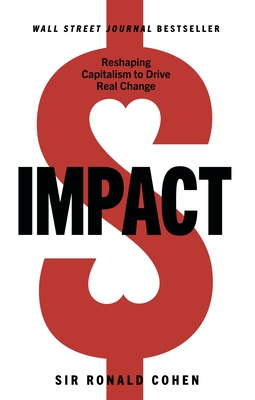 Impact
Reshaping Capitalism to Drive Real Change
Paperback

* Individual store prices may vary.
Other Editions of This Title:
Digital Audiobook (8/19/2020)
Hardcover (5/25/2021)
Hardcover (11/3/2020)
Description
A Must-Read Book From The Godfather Of Impact Investing - Forbes

Capitalism and democracy are being challenged.
The world must change, but we cannot change it by throwing money at old ideas that no longer work. We need a new path to a new world where inequality is shrinking, where natural resources are regenerated, and people can benefit from shared prosperity. This is the world being created by the Impact Revolution.
Preeminent international investor, entrepreneur, philanthropist, and social finance innovator, Sir Ronald Cohen, has dedicated two decades to leading the Impact Revolution to achievereal social and environmental change. As one of the founders of venture capital, which ushered in the Tech Revolution, he builds on his years of personal experience to deliver a compelling account of how impact investing is reshaping capitalism.
So, whether you're:
an aspiring young entrepreneur
an established business person
an investor
a philanthropist
or somebody in government
or are interested, as a consumer or employee, in companies doing good and doing well at the same time - this book is a sure-fire way to find out how you can play a role in changing the world.
All royalties from the sale of this book are donated to impact charities.
A powerful case for a movement that is gaining traction in society - Andrew Jack, The Financial Times
IMPACT's] aim is nothing less than to create a new type of capitalism infused with a social purpose. The book deserves to be read by anybody interested in such a revolution.- Martin Wolf, The Financial Times
A fascinating blueprint for a hope-filled future underpinned by the social power of impact investing.-- Kristalina Georgieva, Managing Director, International Monetary Fund, Former CEO, World Bank Group
Morgan James Publishing, 9781631955143, 270pp.
Publication Date: May 25, 2021