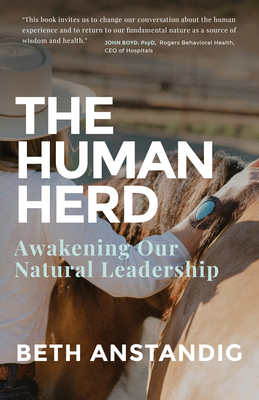 The Human Herd
Awakening Our Natural Leadership
Paperback

* Individual store prices may vary.
Description
Part guidebook, part manifesto, part wake-up call, The Human Herd: Awakening Our Natural Leadership unleashes our mammal instincts with a framework for living, relating, and leading a more empowered life. We are human animals. Yet in the modern world, the natural signals of our mammal bodies are suppressed. Our instincts go unanswered as we move through life on autopilot, reacting to the latest dilemma instead of listening to the innate wisdom we carry. Without integrating this fundamental part of ourselves, we lack presence, joy, and passion, deeply affecting all aspects of our well-being and success.To reclaim the innate power of our human animal, we must learn to pay close attention to the signals our mammal body sends us. When we wake up this vibrant part of our humanity, we have access to a new source of information we can use to take better care of ourselves, to respond to pressures within and around us, to make sound decisions, and to build more authentic relationships in our lives and work.This is our Natural Leadership, and it allows us to move through the world with a keen advantage that benefits our entire human herd.Each chapter includes stories spanning all aspects of the human experience along with the core concepts of the Natural Leadership model, plus a set of easy-to-use tools and a variety of practice modes such as exercises and reflective experiences.
Morgan James Publishing, 9781631956935, 240pp.
Publication Date: April 12, 2022