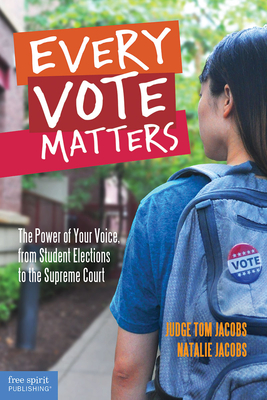 Every Vote Matters (Paperback)
The Power of Your Voice, from Student Elections to the Supreme Court (Teens & the Law)
Free Spirit Publishing, 9781631980695, 208pp.
Publication Date: February 1, 2016
Other Editions of This Title:
Prebound (2/1/2016)
* Individual store prices may vary.
Description
Encourage teens to recognize the importance of voting and making their voices heard in the democratic process with this timely book focused on Supreme Court decisions that came down to a single vote. Chapters examine key Supreme Court rulings and explore how these cases have affected the lives and rights of U.S. citizens—especially teens. Using a straightforward, impartial tone, the authors take a close look at often controversial cases and at the history of voting in the United States. The emphasis is involvement in local and national elections as well as other ways to be an engaged citizen. With an accompanying digital discussion guide, the book is a perfect choice for teachers and youth leaders to offer teens in the upcoming 2016 presidential election cycle.
About the Author
Judge Tom Jacobs has served as an Arizona assistant attorney general, a Superior Court juvenile division judge, a family court judge, and an adjunct professor at the Arizona State University School of Social Work. He is also the author of What Are My Rights?, Teen Cyberbullying Investigated, and They Broke the Law—You Be the Judge. Judge Tom lives in Arizona. Visit his website at AsktheJudge.info.
 
A former criminal defense attorney, Natalie Jacobs works with her father Judge Tom on the teen rights website AsktheJudge.info helping teenagers and their parents become better informed about youth rights and the laws affecting minors. She has volunteered with the Arizona Innocence Project that investigates claims of innocence and works to exonerate those wrongfully convicted. Natalie lives in Arizona
Praise For Every Vote Matters: The Power of Your Voice, from Student Elections to the Supreme Court (Teens & the Law)…
"A nice look at how much our votes can matter and the intersection between the voting participation of ordinary people and Supreme Court decisions."—Paul Loeb, author of Soul of a Citizen
 
"Tom and Natalie Jacobs make the importance of a wide array of Supreme Court rulings clear and accessible in a way that will help student discuss their government and how they can help shape it. We are in urgent need of effective civic education, and Every Vote Matters is an excellent contribution that deserves wide readership."—Rob Richie, executive director, FairVote
"Clear explanations, relevant supplemental cases, reader-directed questions, and suggested resources help make the legal issues at play relevant and readily accessible. . . . A fascinating window into recent U.S. legal history."—Publishers Weekly
 
"Exceptionally thorough examination of the voting process. This never loses sight of its target audience: many of the Supreme Court cases addressed have to do with education and juvenile rights, and each chapter ends with a 'Talk, Think, Take Action' section that encourages teen readers to relate the cases back to their own lives and discuss the effects of each."—Booklist
 
 
"An exceptional in-depth look into the power of voting and Supreme Court rulings. A fantastic addition to any library serving young adults as it offers engaging and thought-provoking information on rulings affecting their everyday lives."—VOYA
 
or
Not Currently Available for Direct Purchase