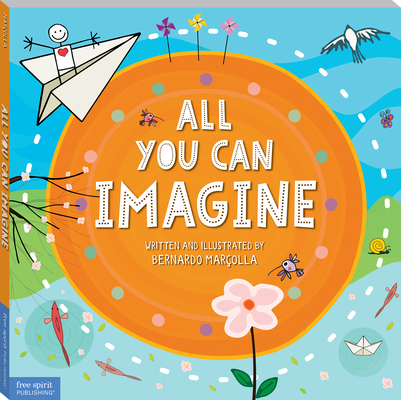 All You Can Imagine
Hardcover

* Individual store prices may vary.
Description
Kids learn how imagination gives them the power to connect to themselves, to others, and to the world around them.

Where can imagination take you? From Bernardo Marçolla, author-illustrator of Me and You and the Universe, comes a new book on the power of imagination. All You Can Imagine encourages readers to open their hearts, minds, and eyes to the world around them to let imagination in, foster connections, and explore all the possibilities of the universe. 

Imagination and creativity give us the power to connect to ourselves, to others, and to the world around us. All You Can Imagine helps children embrace and expand their ideas and imagination, whether these ideas arrive slowly, piece by piece, or suddenly, like a bird taking flight. Imaginative play is an integral foundation for social, emotional, and academic development, so fill an entire day with the power of imagination and all the ways it can be shared and expressed. 

With Bernardo's distinctive illustrations, All You Can Imagine taps into the universal childhood experience of imagination and creative flights of fancy and ties these into large ideas about the benefits of imagination.
 
Free Spirit Publishing, 9781631986512, 36pp.
Publication Date: April 9, 2021
About the Author
Bernardo Marçolla is an author and illustrator who holds a doctorate and post doctorate in literature, as well as a master's degree in psychology, and who has more than ten years of experience as a professor of psychology. Since 2012, he has been an analyst in the Human Resources area of the Brazilian Institute of Geography and Statistics, and in 2017, he published the book Psychology and Ecology: Nature, Subjectivity and Its Intersections (in Portuguese). The ideas in that book inspired him to create accessible books for children on big, metaphysical concepts. He loves chocolate and still has not given up on learning to draw a little better. He lives in Belo Horizonte, Brazil, with his wife and three cats.