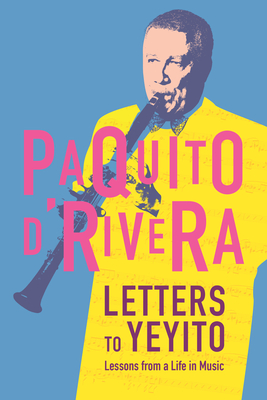 Letters to Yeyito
Lessons from a Life in Music
Paperback

* Individual store prices may vary.
Description
A captivating memoir from one of jazz's most beloved practitioners, fourteen-time Grammy winner Paquito D'Rivera's Letters to Yeyito is a fascinating tour of a life lived in music, and a useful guidebook for aspiring artists everywhere.

Years after receiving a fan letter with no return address, Latin jazz legend Paquito D'Rivera began to write Letters to Yeyito in the hope of reaching its author, a would-be musician. In the course of advising his Cuban compatriot on love, life, and musicianship, D'Rivera recounts his own six-decade-long journey in the arts.

After persevering under Castro's brand of socialism for years, D'Rivera defected from Cuba and left his beloved Havana for that other great city: New York. From there, the saxophonist, clarinetist, and composer launched a dazzling—and still very active—career that has included fourteen Grammys, world tours, and extensive collaboration with the likes of Dizzy Gillespie, Yo-Yo Ma, and other music legends who make cameos in these pages. Full of humor, entertaining anecdotes, expert advice, and the musician's characteristic exuberance, D'Rivera's story is one of life on the move and finding a home in music.
Praise For Letters to Yeyito: Lessons from a Life in Music…
"D'Rivera's poetic prose (nicely translated from the Spanish by Rosario Moreno) richly conveys the deep respect and true love he has for the contributions of [Bola de Nieve, Dizzy Gillespie, and Bebo Valdés]. D'Rivera's writerly gifts blossom most vividly in his earthy depictions of life as a working and touring performer . . . After enjoying this literary journey/lesson, the reader will be pleased with D'Rivera's ultimate declaration: 'While energy, health, and endurance are still with me, I'll keep blowing these whistles I learned from my dad until my last breath.'"

—JazzTimes

"Captivating . . . The upbeat nonfiction piece offers an enthralling tour of D'Rivera's lengthy career."

—The Latin Post

"A renaissance man of Cuban music . . . a charming and talented writer . . . Like a good jazz player, D'Rivera has developed his own unique voice and style as a writer as well, which is part of the strength and appeal of his previous works and this new one . . . Forthright, irreverent, funny and thoughtful, D'Rivera doesn't mince words, nor he allow bitterness (particularly over events in Castro's Cuba) to overwhelm the joy he finds in life, travel, people and music . . . A delightful, engrossing, and illuminating read that provides a glimpse into the life of one of the finest working Latin jazz musicians, and a chance to spend time in his captivating company."

—Wichita's KMUW FM 89.1

"A terrific book . . . I recommend it highly . . . Each paragraph is a story in itself . . . Very funny . . . [Paquito D'Rivera is] a one-man party . . . There is nobody more joyous."

—Michael Bourne, WBGO Jazz

"Paquito's time in the United States has been hugely successful. Already known to be a fantastic musician, he has become one of the most well-known names not only in Latin jazz, but in a number of other genres as well. There is no denying the man is a legend and deserves every honor given to him."

—JW Pepper

"[Letters to Yeyito] is more than a litany of lessons from a life in music for one major reason: Paquito d'Rivera. If this book had been written by less than an accomplished jazz/classical musician than Maestro d'Rivera, it would have less meaning . . . But it is not this wall of awards that gives Letters to Yeyito its literary heft. Not only does the author offer a highly descriptive account of life in Cuba under Fidel Castro, he also provides a detailed account of the many people who have crossed his musical path and the family and friends who have surrounded him . . . Paquito d'Rivera's Letters to Yeyito: Lessons from a Life in Music offers the reader a first- hand account of life in Castro's Cuba from a musician's perspective. But more than this, it underlines the importance of family, friends, mentors, and peers in the development of a musical career."

— Eugene Marlow

"Hilarious . . . These letters to a lost fan more than stand alone; this is a fully realized book where Paquito shares almost encyclopedic knowledge of the music world. He gives us a history of jazz and especially Latin jazz, including the contributions from Latin America and other parts of the world that are often forgotten in other chronicles. Indeed, one of his goals with this book was just that, and the result is, in my opinion, one of the best music memoirs yet . . . Paquito is not only a great musician, but a great writer too . . . This is a fun and entertaining book, and its author was thoughtful in reaching out to Yeyito and readers elsewhere, a joyful celebration of life and music."

—Matt's Stats
Restless Books, 9781632060198, 232pp.
Publication Date: November 10, 2015
About the Author
About the Author:

Cuban-born clarinetist and saxophonist Paquito D'Rivera is celebrated for his artistry in Latin jazz and achievements in classical composition. He has received fourteen Grammys, the NEA Jazz Masters Award, and the National Medal of the Arts, among many others, and is the only artist to have won Grammys in both Classical and Latin Jazz categories. His numerous recordings include more than thirty solo albums. He lives in New Jersey.

About the Translator:

Rosario Moreno is a Cuban-born bilingual translator, writer, creative director, and executive producer. A U.S. Hispanic Market Specialist, she has worked for both the Univision and Telemundo networks and produced over one hundred TV commercials and programs, as well as numerous advertising and merchandising campaigns. She translates both from English to Spanish and from Spanish to English.
or
Not Currently Available for Direct Purchase