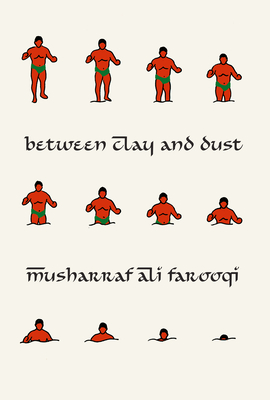 Between Clay and Dust
Paperback

* Individual store prices may vary.
Description
A Finalist for the Man Asian Literary Prize, a moving and beautifully told story set in a the tumultuous days after the Partition of India and Pakistan, about a wrestling champion and a courtesan struggling to hold onto the world they knew amidst the eruptions of history.

In a ruined city after the partition of India and the creation of Pakistan in 1947, Ustad Ramzi is still famed as a wrestler of unparalleled strength and technique. But now Ramzi's power—if not his indomitable will—is on the wane, while his younger brother Tamami, unconcerned with traditions and hierarchy, hungers for immediate fame and glory at the risk of family honor.

The courtesan Gohar Jan was once celebrated throughout the country for her beauty and the seductive power of her singing, her salon thronged by nobles, rich men, and infatuated admirers. But the aging Gohar Jan's world is changing, too. Ustad Ramzi and Gohar Jan are both beloved paragons of a world that no longer exists, in a bewildering new reality indifferent to their art.

Shortlisted for The Man Asian Literary Prize, acclaimed Pakistani author Musharraf Ali Farooqi's novel is a bracing and elegant story of two extraordinary characters in the twilight of their lives who stand resolute as the society they've known crumbles around them. Between Clay and Dust is an arresting account of love, honor, betrayal, and the ways in which we wrestle with history.
Praise For Between Clay and Dust…
"Musharraf Ali Farooqi is the angel of history. The storm called progress is blowing him into the future. It is piling wreckage at his feet, but there is so much to be done between clay and dust: As this marvelous novel shows, language is to be practiced with the rigor of style; gesture supported by graciousness; ordinary life to be rescued by ritual; and nostalgia distilled into knowledge."

—Amitava Kumar, author of Lunch with a Bigot and A Matter of Rats

"A crisp and elegiac novel….Farooqi's atmospheric prose is spare and lucid."

—Publishers Weekly, Starred Review

"The book works like an ache in the heart, evoking cultures and values that, while not necessarily perfect, represented something larger than the self; their replacements, by contrast, are small and mean…. The pages come alive with the grunts of the trainee pehelwans and capture the last echoes of Gohar Jan's sitar. A story that purports to be about decay resounds with the stuff of life. This is a book to be savoured like a fine single malt."

—Forbes India

"Set in a decaying inner city after the partition of India, Between Clay and Dust is an elegiac but unromanticised evocation of a dying culture. The tragedy of a champion wrestler, challenged by his younger brother and befriended by an ageing courtesan, has a mythic resonance, as the characters' ethical codes collide with the values of a new world. Farooqi's tale is more moving for the spareness and restraint with which it is told."

—2012 Man Asian Literary Prize finalist citation

"Much of the action of Between Clay And Dust alternates between sporting arenas and women's rooms, in spaces which we tend to think of as repositories of our memories, rather than our histories. Perhaps this accounts for the power of this small, spare book, a novel which fulfils the most novelistic of purposes—to refract history through the prism of memory, and to tell us its secrets and doubts. Farooqi traces the unravelling of their world with near-uncanny attentiveness…. Farooqi's writing is too wise and too elegant to make this a romance instead of a tragedy. As in Syed's poem, we are left with the notion that every history is underwritten by the minute, private failures of human beings."

—Wall Street Journal

"A thoughtful and emotionally articulate story about people whose lives are changing beyond their control…. Farooqi's treatment of all his characters is sensitive and subtle."

—International New York Times

"Musharraf Ali Farooqi has written a wonderful, quiet novel about how traditions and lives can decline into unmeaning…. This is a quietly affecting book, with a profound understanding of tragedy: that what happens to us is as much a function of how we respond to events as the events themselves."

—The Sunday Guardian

"Farooqi's spare, tightly honed prose and the quiet unfurling of the plot resembles the seamless movements of a dance, in which sudden implosions of violence and unexpected denouements are reflected by a change in the dancer's steps but are contained within the fluidity of the whole. This sense of physicality and grace is enhanced by a narrative where much is suggested through gesture and nuance. At the same time, Farooqi's eye for detail vividly brings to life the two main protagonists and their respective establishments….Between Clay and Dust is a fine novel; it never loses tension nor wastes a word and, above all, it is replete with a spectacular imagery that recreates Ustad Ramzi and Gohar Jan's dying world."

—Newsline Magazine

"What's remarkable about this novel navigating an older world encroached upon by a newer one, is that it doesn't mourn the change as much as try to understand how to stay relevant and urge an awareness of our part in our personal tragedies and an acceptance of our fatal flaws.

Between Clay and Dust glides on understated, soulful prose, an English that feels almost like Urdu in its sensibility, for it captures the cadence of a culture in decline in post-Partition India and Pakistan, specifically, the Ganga-Jamuni tehzeeb of the Subcontinent: a shared, plural composite culture and the refinement of pleasure and the arts, of which courtesans and wrestlers are perhaps its most enduring, romantic and graceful ciphers. Farooqi's restrained prose that creates a certain lushness and heightened mood, is surely drawn from the eclipsed traditions of the kotha and akhara that it distills so wonderfully and with such dignity."

—Asian Review of Books

"As far as intimate epics – that beloved but apt oxymoron of reviewese – go, Between Clay and Dust is intimate enough to pass for a whisper in the middle of pillow talk between two lovers. And yet its richness in capturing a culture at the moment of expiry is the stuff of epics…. Timelessness, sorrow, and so much emotional delicacy."

—Quill and Quire, Starred Review
Restless Books, 9781632060372, 208pp.
Publication Date: September 8, 2015
About the Author
Musharraf Ali Farooqi is an author, novelist, and translator. He was born in 1968 in Hyderabad, Pakistan, and now divides his time between Toronto and Karachi. His acclaimed new novel, Between Clay and Dust, was shortlisted for The Man Asian Literary Prize 2012 and longlisted for the 2013 DSC Prize for South Asian Literature. In 2015, Restless Books will publish Farooqi's second novel, The Story of a Widow, which was shortlisted for the DSC Prize for South Asian Literature 2011 and longlisted for the 2010 IMPAC­Dublin Literary Award. His most recent children's fiction is the novel Tik­Tik, The Master of Time, Pakistan's first English language novel for children. His other children's fiction includes the picture book The Cobbler's Holiday Or Why Ants Don't Wear Shoes and the collection The Amazing Moustaches of Mocchhander the Iron Man and Other Stories, shortlisted for the India ComicCon award in the Best Publication for Children category. He is the author of the critically acclaimed translations of Urdu classics, The Adventures of Amir Hamza, and the first book of a projected 24-­volume magical fantasy epic, Hoshruba.