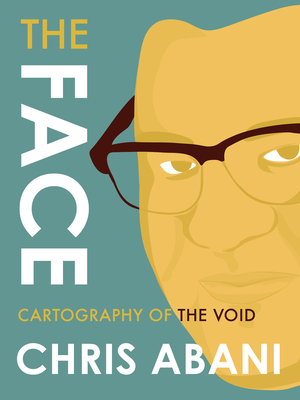 The Face (Paperback)
Cartography of the Void
Restless Books, 9781632060433, 96pp.
Publication Date: March 1, 2016
* Individual store prices may vary.
Description
"A fascinating meditation on identity that explores the novelist's own mixed heritage and mixed feelings….A true citizen of the world….With great insight and compassion, Abani reveals that behind his—and every—face are unseen scars." —San Francisco Chronicle

In The Face: Cartography of the Void, acclaimed Nigerian-born author and poet Chris Abani has given us a profound and gorgeously wrought short memoir that navigates the stories written upon his own face. Beginning with his early childhood immersed in the Igbo culture of West Africa, Abani unfurls a lushly poetic, insightful, and funny narrative that investigates the roles that race, culture, and language play in fashioning our sense of self.

As Abani so lovingly puts it, he contemplates "all the people who have touched my face, slapped it, punched it, kissed it, washed it, shaved it. All of that human contact must leave some trace, some of the need and anger that motivated that touch. This face is softened by it all. Made supple by all the wonder it has beheld, all the kindness, all the generosity of life." The Face: Cartography of the Void is a gift to be read, re-read, shared, and treasured, from an author at the height of his artistic powers.

Alternately philosophical, funny, personal, political, and poetic, the short memoirs in The Face series offer unique perspectives from some of our favorite writers. Find out more at www.restlessbooks.com/the-face.
About the Author
Chris Abani is a novelist, poet, essayist, screenwriter, and playwright. Born in Nigeria to an Igbo father and English mother, he grew up in Afikpo, Nigeria, received a BA in English from Imo State University, Nigeria, an MA in English, Gender, and Culture from Birkbeck College, University of London, and a PhD in Literature and Creative Writing from the University of Southern California. He has resided in the United States since 2001. His fiction includes The Secret History of Las Vegas, Song For Night, The Virgin of Flames, Becoming Abigail, GraceLand, and Masters of the Board. His poetry collections are Sanctificum, There Are No Names for Red, Feed Me The Sun: Collected Long Poems, Hands Washing Water, Dog Woman, Daphne's Lot, and Kalakuta Republic. He is the recipient of the PEN USA Freedom-to-Write Award, the Prince Claus Award, a Lannan Literary Fellowship, a California Book Award, a Hurston/Wright Legacy Award, a PEN Beyond the Margins Award, the PEN Hemingway Book Prize, and a Guggenheim Award.
Praise For The Face: Cartography of the Void…
"A fascinating meditation on identity that explores the novelist's own mixed heritage and mixed feelings . . . A true citizen of the world . . . With great insight and compassion, Abani reveals that behind his—and every—face are unseen scars."

—Porter Shreve, San Francisco Chronicle

"Abani's story is insightful, moving, and a strong case for exploring and publishing new forms of creative nonfiction."

—Adam Morgan, Chicago Review of Books Best Nonfiction Books of 2016

"[H]is work is 'against forgetting' . . . The result, nonetheless, is a powerful, honest and deeply poetic accounting of the formation of a life . . . Abani's exploration of personal, familial and cultural identities, all situated in conversation with questions of larger social significance, have created a work of great depth, compassion and insight."

—Hope Wabuke, The Guardian

"I devoured it a single sitting. It's light and easy, and also heavy and thought-provoking. It's not exactly a memoir, but it's a moving and funny account of inhabiting what Esi Edugyan calls the 'yes, but where are you really from?' question."

—Aaron Bady, The New Inquiry

"Chris Abani describes his face as 'a mixture of two races, of two cultures, of two lineages' (he was born in Nigeria to an Igbo father and English mother), writing with humor, anguish and acceptance about ancestry and family and 'wearing' his father's face."

—Laurie Hertzel, Minneapolis Star Tribune

"Abani sees his face as both the reflection of the lives that came before his and the lives that have grown together with his, and as the repository of every touch, every gift of warmth, every interaction, every experience of love…. And though Abani ties his contribution up neatly at the end, he doesn't let the readers off easy. His story is the hardest to piece together in a chronological sense, making it the most difficult to follow narratively; he reveals much, emotionally, but very little in the way of facts or details. In one way, we learn much more about him than the others, but in terms of facts and chronology, we learn much less."

—Sharrona Pearl, Public Books

"Chris Abani is easily one of most important voices in literature today."

—Bhakti Shringarpure, Warscapes

"What do our faces say about us — and how much of what they say is fair? That's one of the questions posed by Restless Books's intriguing new series The Face, in which writers use their own countenances as launchpads into the imaginative stratosphere . . . in Chris Abani's Cartography of the Void, part of the series's inaugural triptych (along with short works by Ruth Ozeki and Tash Aw), we're not disappointed . . . Can we dismiss the significance of our faces when they bear so strongly the marks of who we were as much as who we are? It could seem like a pessimistic question. But Abani isn't pessimistic. Seeing his father in himself is troubling but it also opens up a path to understanding. And so it is that he can hope: 'That my face, and my father's face, and his father's face before him will blaze in an unending lineage of light and forgiveness.'"

—Charles Arrowsmith, House of SpeakEasy
or
Not Currently Available for Direct Purchase