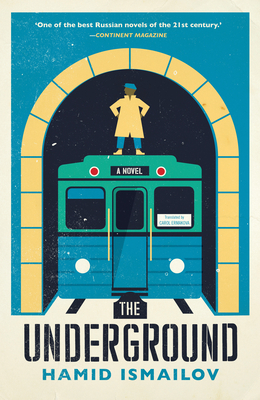 The Underground
Paperback

* Individual store prices may vary.
Description
Named one of "the best Russian novels of the 21st Century," The Underground is the unforgettable story of an abandoned mixed-race boy navigating the wondrous and terrifying city of Moscow before the Soviet Union's collapse.

"I am Moscow's underground son, the result of one too many nights on the town." So begins the story of Mbobo, the precocious 12-year-old narrator of this captivating novel by exiled Uzbek author and BBC journalist Hamid Ismailov. Born to a Siberian woman and an African athlete who came to compete in the 1980 Moscow Olympics, Mbobo must navigate the complexities of being a fatherless, mixed-raced boy in the shaky terrain of the Soviet Union before its collapse.

With echoes of Ralph Ellison's Invisible Man and Fyodor Dostoevsky's Notes from Underground, Ismailov's novel tackles head-on the problems of race and the relationship between the individual and society in a thoroughly modern context. While paying homage to great Russian authors of the past—Dostoevsky, Turgenev, Gorky, Nabokov, and Pushkin—Ismailov emerges as a master of a new kind of Russian writing that revels in the sordid reality and diversity of the country today. Named one of "the best Russian novels of the 21st Century" (Continent Magazine), The Underground is a dizzying and moving tour of the Soviet capital, on the surface and beneath, before its colossal fall.
Praise For The Underground…
"Exiled Uzbek writer Hamid Ismailov weaves this story of mundane misery and visceral decay into a luminous elegy for late-Soviet Moscow.… Ably translated by Carol Ermakova.… Ismailov's novel inevitably invites comparison with Dostoevsky's Notes from Underground.… The Underground recreates a lost Moscow. The narrator's memories map out a haunting, bittersweet cityscape, with landmarks that no longer exist and names that have long since changed."

—Phoebe Taplin, The Guardian

"Ismailov tells a haunting tale of an Afro-Russian boy's search for love. Generous in spirit yet unsparing in its honesty, The Underground illuminates a loneliness that is as devastating as it is universal. In breathtaking prose, Ismailov reminds us again and again that even the slimmest thread of light can pierce through the darkest of days."

—Maaza Mengiste, author of Beneath the Lion's Gaze

"In reading Hamid Ismailov's The Underground, I found the hard-won wisdom of Ralph Ellison's Invisible Man in conversation with the boyhood lyricism of Anne Carson's Autobiography Of Red. But most crucially, simmering just under the skin of every word, I heard Ismailov's own heartbeat: haunted, beautiful even when strained, and insistent. The world has conspired to keep this necessary and timely novel a secret for too long."

—Saeed Jones, author of Prelude to a Bruise

"Hamid Ismailov has gained a reputation as a canonical Russian author alongside his Uzbek, Tatar, Kyrgyz and Tajik heritage and British nationality.… Like the proverbial express train advancing through the tunnel upon us, nothing can stall the immense onward rush of The Underground."

—Amanda Hopkinson, The Independent

"One of the best Russian novels of the twenty-first century"

—Continent Magazine

"Honest in a way that much Soviet literature could not be.… The layering of different literary references—to Mayakovsky, Yerofeyev, Anna Karenina—makes this a complicated novel to translate, and Carol Ermakova's lyrical version is a worthy tribute to an intriguing book."

—James Womack, Times Literary Supplement

"Elegaic and powerful… Heartbreaking… Ismailov balances moments of startling clarity with a child's inability to articulate devastating loss. It is one of the hallmarks of his writing in this novel, this deft handling of a wry, speaking-from-beyond-the-grave voice—a ghost with nothing left to lose—and the visceral, unfathomable emotions of a lost child. Evocative details, coupled with a worldworn irony, lend Ismailov's prose a razor-sharp perceptiveness that is both weighted and symbolic.… Ismailov renders a narrative so rich and complex that we give ourselves license to believe that there will be something left after it ends, something worth all the pain.… Ismailov's novel, despite its tragic tenor, also offers glimmers of respite. It is a testament to the book's grand vision that through to its wrenching and inevitable end, we are never left to wander long in its stretches of darkness. There are always bursts of light to guide us forward, to allow us to imagine while illuminating all the possibilities that await those who never give up on hope."

—Maaza Mengiste, The New Inquiry

"Ismailov's works blend a keen awareness of the cosmopolitanism of the Soviet project, with its feverish drive for modernization.… It also pays homage to the rich tapestry of Russian—and Soviet—literature, and the interplay between the two.The Underground's structure is reminiscent of Yerofeyev's Moscow to the End of the Line; and Ismailov delights in pan-Soviet literary references, from Abkhazia's Fazil Iskander and Chuvashia's Gennady Aygi to Odessa's 'Ilf and Petrov' and Nobel laureate Ivan Bunin. Ismailov sees himself as part of the Russian literary tradition (his prose has been compared to Bulgakov, Gogol, and Platonov).… Ismailov's novel is a deep examination of the confusions of Soviet and post-Soviet 'Russianness.'… An intricate portrait of an all too foreign loss: the disappearance of one's country."

—Maxim Edwards, openDemocracy

"In short, punchy chapters which trace the stations on the Moscow underground, Ismailov gives us a suitably gloomy portrait of the soul of Russia, fuelled by alcohol and alternately buttressed and assailed by history.… Ismailov's prose, ably translated by Carol Ermakova, is dense and allusive, thick with references to Russian folklore and literature, from Gorky and Turgenyev to Dostoyevsky and—repeatedly and primarily—Alexander Pushkin. The Underground is a dark, gnarly, difficult novel, mining poetry from the squalid and the subterranean.… Its depiction of a damaged individual's doomed attempt to plot a course through a dysfunctional and disintegrating society is consummate and compelling."

—The New Internationalist

"This is a beautiful, sad novel about race and loneliness, filled with lines that demand to be reread for their elegance."

—BookPage

"Brutal, poignant, and darkly funny—highly recommended."

—Lisa Howorth, Square Books (Oxford, MS)

"Every so often a book falls through my letterbox which makes me glad to be alive. Hamid Ismailov's novel is one of them. The Underground is about decay, death and the end of empire but the writing is so powerful and poetic that it fills me with joy. And even though it is a short Russian novel of only 250 pages, it has all the lyricism, layers and depth of a doorstop Dostoevsky.… What a metaphor for the Soviet Union! In spite of some heavy referencing, including to Dostoevsky's Notes from the Underground, this is not a heavy-handed novel at all. It is a moving account of betrayal and deception but of the ability to find comfort and joy in poetry and stories and of the necessity of beauty.… Thanks also to his wonderful translator."

—Rosie Goldsmith, European Literature Network

"Hamid Ismailov has the capacity of Salman Rushdie at his best to show the grotesque realization of history on the ground."

—Literary Review
Restless Books, 9781632060440, 288pp.
Publication Date: September 22, 2015
About the Author
Born in an ancient city in what is now Kyrgyzstan, Hamid Ismailov is an Uzbek novelist and poet who was forced to leave his home in Tashkent when his writing brought him to the attention of government officials. Under threat of arrest, he moved to London and joined the BBC World Service, where he is now Head of the Central Asian Service. In addition to journalism, Ismailov is a prolific writer of poetry and prose, and his books have been published in Uzbek, Russian, French, German, Turkish, English and other languages. His work is still banned in Uzbekistan. He is the author of many novels, including Sobranie Utonchyonnyh, Le Vagabond Flamboyant, Two Lost to Life, The Railway, Hostage to Celestial Turks, Googling for Soul, The Underground, A Poet and Bin-Laden, and The Dead Lake; poetry collections including Sad (Garden) and Pustynya (Desert); and books of visual poetry including Post Faustum and Kniga Otsutstvi. He has translated Russian and Western classics into Uzbek, and Uzbek and Persian classics into Russian and several Western languages.