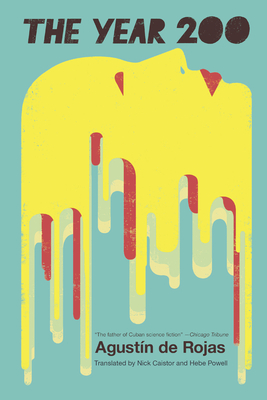 The Year 200 (Paperback)
Restless Books, 9781632060518, 539pp.
Publication Date: July 12, 2016
* Individual store prices may vary.
Description
"There could scarcely be a more opportune moment for the appearance in English of the late Cuban science fiction master Agustín de Rojas's epic novel The Year 200…. De Rojas's lucid fictional world intersects with many of our contemporary technological obsessions but charges them with remarkably distinct political valences..... A riveting narrative of espionage and geopolitical turmoil." —Los Angeles Review of Books

Centuries have passed since the Communist Federation defeated the capitalist Empire, but humanity is still divided. A vast artificial-intelligence network, a psychiatric bureaucracy, and a tiny egalitarian council oversee civil affairs and quash "abnormal" attitudes such as romantic love. Disillusioned civilians renounce the new society and either forego technology to live as "primitives" or enhance their brains with cybernetic implants to become "cybos." When the Empire returns and takes over the minds of unsuspecting citizens in a scenario that terrifyingly recalls Invasion of the Body Snatchers, the world's fate falls into the hands of two brave women.

Drawing as much from the realms of the adventure novel, spy thriller, and political satire as from hard science fiction, horror, and fantasy, The Year 200 has been proven prophetic in its consideration of cryogenic freezing, artificial intelligence, and state surveillance, while its advanced weapons and robot assassins exist in an all-too-imaginable future. Originally published in 1990, just after the fall of the Berlin Wall and before the onset of Cuba's devastating Special Period, Agustín de Rojas's magnum opus brings contemporary trajectories to their logical extremes and boldly asks, "What does 'the greatest good for the greatest number' really mean?"
About the Author
Agustín de Rojas (1949-2011) is the patron saint of Cuban science fiction. A professor of the history of theater at the Escuela de Instructores de Arte in Villa Clara, he authored a canonical trilogy of novels consisting of Espiral (Spiral, 1982), for which he was awarded the David Prize; Una leyenda del futuro (A Legend of the Future, 1985); and El año 200 (The Year 200, 1990), all of which are scheduled for publication in English translation by Restless Books. While he was heavily influenced by Ray Bradbury and translated Isaac Asimov into Spanish, de Rojas aligned himself mostly with Soviet writers such as Ivan Yefremov and the brothers Arkady and Boris Strugatsky . After the fall of the Soviet Union, de Rojas stopped writing science fiction. He spent his final years persuaded—and persuading others—that Fidel Castro did not exist.

Agustín de Rojas (1949-2011) es el padre de la ciencia ficción cubana. Profesor de historia teatral en la Escuela de Instructores de Arte de Villa Clara, de Rojas es autor de una afamada trilogía que consiste en Espiral (1982), que recibió el Premio David; Una leyenda del futuro (1985); y El año 200 (1990), todas ellas de próxima aparición en traducción al inglés bajo el sello editorial Restless Books. Fuertemente influenciado por Ray Bradbury, de Rojas, que tradujo al español a Isaac Assimov, se sumó a la línea soviética de Ivan Yefremov, los hermanos Arkady y Boris Strugatsky. Luego de la caída de la Unión Soviética, de Rojas dejó de escribir ciencia ficción. Pasó los últimos años de su vida convencido—y convenciendo a los demás—que Fidel Castro no existía.

Nick Caistor is a British journalist, non-fiction author, and translator of Spanish and Portuguese literature. He has translated Cesar Aira, Paulo Coelho, Eduardo Mendoza, Juan Marsé, and Manuel Vázquez Montalban, and he has twice won the Valle-Inclán Prize for translation. He regularly contributes to Radio 4, the BBC World Service, the Times Literary Supplement, and the Guardian. He lives in Norwich, England.

Hebe Powell lives and works in London as a freelance translator of Spanish. Born in England, she spent part of her childhood in Argentina and later, a year working and travelling in Spain. She took up a career in physics, completing a PhD in quantum optics at Imperial College London and then as a research scientist in this field. She has also worked as a science teacher. In recent years Hebe has been translating Hispano American fiction. Her first published translation, also a co-translation with Nick Caistor, was Divine Punishment by the renowned Nicaraguan author Sergio Ramírez. Hebe is also a researcher in the field of Spanish pragmatics at Birkbeck College; her work currently focuses on the linguistic strategies employed by users of an online marketplace based in Argentina.
Praise For The Year 200…
"There could scarcely be a more opportune moment for the appearance in English of the late Cuban science fiction master Agustín de Rojas's epic novel The Year 200…. De Rojas's lucid fictional world intersects with many of our contemporary technological obsessions but charges them with remarkably distinct political valences. The Year 200 is a riveting narrative of espionage and geopolitical turmoil set 200 years after the communist Confederation has defeated the capitalist Empire…. De Rojas was known as a practitioner of hard SF, and the opening chapters weave meticulous technical description with briskly paced action; co-translators Nick Caistor and Hebe Powell nicely preserve the efficiency and precision of the author's prose…. Just as refreshing is the way that The Year 200 allows us to imagine and think along with different contradictions than the ones that we currently face…. In this moment of openness between the United States and Cuba, a place often misleadingly imagined as a time warp, there is great potential for fruitful encounters of the imagination and The Year 200 provides just such an encounter. Restless Books, and Caistor and Powell, should be commended for carrying over de Rojas's epic into English. Translating a novel of this length and complexity, littered with a technical language that is partly invented and partly drawn from the antiquated jargon of cybernetics, is no mean feat, and they pull it off with aplomb. Thanks to these efforts, English-language readers are gaining access to the riches of Cuban science fiction, a body of literature that surely has more revelations in store for us."

—Geoff Shullenberger, Los Angeles Review of Books

"Agustín de Rojas' science fiction masterpiece…. Agustín de Rojas (1949-2011) is one of the most important figures in Cuban science fiction, which is the only science fiction branch in Latin America influenced by Soviet authors such as Ivan Efremov, and Arkady and Boris Strugatsky. De Rojas was also heavily inspired by other canonical science fiction writers such as Ray Bradbury and Isaac Asimov. The Year 200 invites its readers to take a leap of faith and believe that a better world is possible…. For the first time, Nick Caistor & Hebe Powell, translators of The Year 200, have brought this masterpiece closer to the English-speaking public (alongside Spiral and A Legend of the Future). They have created an opportunity to read and analyse the acclaimed author's literary achievement…. The Year 200 is one of the most interesting readings of this year because, ultimately, it challenges the readers' understanding of the world and inspires optimism in a world that may seem full of darkness."

—Selina Aragon, Asymptote

"Remarkable... indispensable when it comes to understanding the connections between Miami and Cuba. Although The Year 200 is not about Cuba, its author, De Rojas, was Cuban. Moreover, he is known as the 'patron saint of Cuban science fiction'…. Think A Wrinkle in Time….It's rare for science fiction to merge scientific and emotional accuracy. De Rojas was influenced by Bradbury and Asimov, but I find some of the first-person voicing to be sort of like Dostoevsky in Notes From the Underground…. Finally, there is a lightness to the prose in The Year 200. It's in the tone and syntax. There are so many parentheticals and ellipses that the paragraphs seem like they might fall apart. But they don't. They remain small, fluid, and steady throughout the novel's deceptively fast 640 pages."

—Leo Neufeld, Miami New Times

"There's a reason that Agustín de Rojas is described as the grandfather of Cuban science fiction. I read all 500+ pages of The Year 200, in an excellent new English translation by Nick Caistor and Hebe Powell, in one awestruck weekend. Set in a future that I absorbed whole-heartedly, written in a racing prose that felt wholly original…. The stakes were high, the plot twists were unexpected, and the vision was compelling. I couldn't put it down…. The Year 200 works, though, on a higher plane: as a self-reflexive critique of the inevitability of our own futures; as a commentary on our own fears. In 1989, one year before the novel was first published, the Berlin Wall fell and the future changed before our eyes. Yet the fears we had then, of artificial intelligence, of environmental collapse, of sexual liberation, of genetic manipulation, have become more pronounced, and the future feels just as terrifying and just as inevitable. The wisdom of this novel lies in the possibility that these fears too may be smaller and more historically bounded than they appear."

—Hannah Alpert-Abrams, Pterodáctilo

"The Year 200 has been compared to Invasion of the Body Snatchers, and rightly so, but de Rojas takes the idea of "body snatching" to an entirely new level…. De Rojas wants to create a hyperaware reader, one who doesn't accept his story as a kind of entertainment but as a lesson and food for thought. At the end, the author confronts us with some hard questions about what it means to be a rational human and a progressive society."

—Rachel Cordasco, Speculative Fiction in Translation