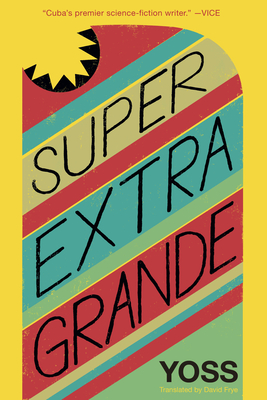 Super Extra Grande
Paperback

* Individual store prices may vary.
Description
Kirkus Reviews Best Fiction of 2016

Barnes and Noble Best Science Fiction & Fantasy of 2016

"Intergalactic space travel meets outrageous, biting satire in Super Extra Grande…. Its author [Yoss] is one of the most celebrated—and controversial—Cuban writers of science fiction…. Reminiscent of Douglas Adams—but even more so, the satire of Rabelais and Swift." —The Washington Post

With the playfulness and ingenuity of Douglas Adams, the Cuban science-fiction master Yoss delivers a space opera of intergalactic proportions with Super Extra Grande, the winner of the twentieth annual UPC Science Fiction Award in 2011.

In a distant future in which Latin Americans have pioneered faster-than-light space travel, Dr. Jan Amos Sangan Dongo has a job with large and unusual responsibilities: he's a veterinarian who specializes in treating enormous alien animals. Mountain-sized amoebas, multisex species with bizarre reproductive processes, razor-nailed, carnivorous humanoid hunters: Dr. Sangan has seen it all. When a colonial conflict threatens the fragile peace between the galaxy's seven intelligent species, he must embark on a daring mission through the insides of a gigantic creature and find two swallowed ambassadors—who also happen to be his competing love interests.

Funny, witty, raunchy, and irrepressibly vivacious, Super Extra Grande is a rare specimen in the richly parodic tradition of Cuban science fiction, and could only have been written by a Cuban heavy-metal rock star with a biology degree: the inimitable Yoss.
Praise For Super Extra Grande…
"Intergalactic space travel meets outrageous, biting satire in Super Extra Grande . . . Its author, José Miguel Sánchez Gómez, who writes under the pen name Yoss, is one of the most celebrated—and controversial—Cuban writers of science fiction . . . Reminiscent of Douglas Adams—but even more so, the satire of Rabelais and Swift—Yoss mocks racist and sexist stereotypes while critiquing Western environmental policies via his enormous, bumbling narrator who somehow manages to save the day."

—Nancy Hightower, The Washington Post

"A lighthearted space-opera adventure by Cuban author Yoss . . . This novel's madcap tone is very similar to Douglas Adams'—so much so that it's almost impossible to avoid drawing such comparisons (although Adams didn't joke about oral sex with aliens, as Yoss does here). As in Adams' works, the galaxy's species are terrifically alien, sporting six breasts and no teeth or breathing methane instead of oxygen. There are also lots of fun references and wordplay throughout the book: the giant amoebas, for example, live on planet Brobdingnag, which orbits a star called Swift-3, while Jan Amos Sangan Dongo is a riff on sangandongo, Cuban slang for 'really big.' But possibly the most enjoyable aspect of this strange world is that it takes place in a future in which an Ecuadorean Jesuit priest discovers faster-than-light travel, and the first space flight proving his theory is announced by unfurling a banner on Mars that reads 'Suck on this, dumb-ass gringos!' Also, the lingua franca of this future is Spanglish, and all the dialogue appealingly follows suit: 'el amor—don't we know it bien!—goes beyond lo físico, even lo químico. Far beyond.' An exceptionally enjoyable comic tale set in a fully realized, firmly science-fictional universe."

— Kirkus, Starred Review

"Science fiction is a place where minority authors have brilliantly mixed the possibilities of the future with the sociopolitical problems of their time. Everything from politics and sexism to racism and the silence of the subaltern (the one Gayatri Chakravorty Spivak wrote about) have been explored within the context of a narrative that takes place in a fictional future. Cuban science fiction author Yoss' Super Extra Grande does all these things . . . [Yoss] marries hard science with wild invention and throws that mix into a hilarious, politically and sexually charged universe where all alien races have stopped being unknown to each other. The result is a witty narrative that proves that, when done right, science fiction can be the most entertaining genre even when delivering a message . . . Spanglish dialogue enriches the narrative and makes it crackle with authenticity . . . Kudos must be given to translator David Frye for his outstanding work . . . Besides the space it creates to discuss alternate realities, the best science fiction is that which delivers on the promise of its name, and Yoss pulls it off with flying colors in part thanks to his degree in biology and in part thank to his fearless approach to creation. The variety of creatures he crafted for this relatively short novel is a testament to a powerful imagination, and the fact that he managed to flawlessly merge them with a larger narrative without bogging down the action is proof that he is a talented storyteller. Furthermore, Yoss' work deserves attention because regardless of what he does in the story, he always keeps his focus on subverting the order of things . . . Yoss tackles science fiction with the attitude of a rock star, and he has the talent to make even his wildest ideas work. Super Extra Grande follows the parodic tradition of Cuban science fiction and treads new grounds in terms of the amount of imagined science and fauna found in its pages. This is a narrative in which anything is possible, love and desire are thrown into the tumultuous new territory of interspecies relationships, and Spanglish is the unifying language of the galaxy. In other words, this is science fiction at its best: wildly imaginative, revolutionary, full of strange creatures, and a lot of fun to read."

—Gabino Iglesias, PANK Magazine

"Super Extra Grande is another funny critique about Western politics . . . For readers in Cuba, Yoss's new novel about exploring the insides of leviathan beasts could remind them of their independence leader José Martí. The poet described living in America as the experience of a very small person living inside of a much bigger animal. And for Latinos, Super Extra Grande could similarly be a story about immigrant families who have to dig in the bowels of a much larger United States to find their piece of the American dream . . . In this sense, Super Extra Grande is an enormous mirror that unearths deep roots connecting Cuba with the United States and the universe."

—Arturo Conde, NBC News Latino

"Yoss's latest novel Super Extra Grande is a work of welcome imagination, steeped in science and imbued with satire and philosophy . . . One of the most endearing elements of the novel is the use of Spanglish that is peppered throughout . . . [speaking to a] highly probable future in which jumbled English and Spanish is an embraced universal dialect. Not unlike his main character, it's evident that Yoss—as an artist and cultural anthropologist—is intent on doing the dirty work, on digging through the ugly insides of human identity in order to arrive at something pure and lasting. I kept imagining the novel causing a stir during the peak of Fidel Castro's reign, the dictator pacing like mad and shouting "Que locura!" at the mention of multisex species and atomic fusion. But Yoss seems more concerned with looking ahead. And in Super Extra Grande, he reconfirms that a future without a literature of the future is really no future at all."

—Juan Vidal, NPR Books

"This newly translated novel by Yoss, considered one of the masters of contemporary Cuban sci-fi, transports us to a bizarre vision of the far future, where humanity has mastered space travel and discovered it is but one small corner of a vast, very strange intergalactic tapestry (think planet-sized amoebas, talking lizards, and female creatures that exist, mantis-like, on "substances" from the males of the species). Odder still, our hero is Jan Amos Sangan Dongo, an interspecies veterinarian tasked with hunting down a giant creature that has swallowed two Galactic Community ambassadors—each of whom Jan happens to have slept with—before the fragile peace between the galaxy's seven sentient species collapses."

—Joel Cunningham, Barnes and Noble Best Science Fiction & Fantasy of 2016

"To better understand Cuba's recent zeitgeist, adventurous readers need not confine themselves to hardcore realism or to visual nostalgia. Instead, they could head to the science fiction section, where they would find two recently published novels by Yoss (né José Miguel Sánchez Gómez): A Planet for Rent (Restless Books, 2015) and Super Extra Grande (Restless Books, 2016), both translated from Spanish by David Frye. In choosing Yoss's work to inaugurate their Cuban science fiction series, Restless Books could not have picked a better ambassador for introducing the Cuban variant of the genre to a North American audience. A brawny, gregarious rockero who looks like he just walked off the set of a Van Halen video, circa 1984, Yoss is one of the most visible members of Cuba's small but dynamic sci-fi scene. He is also one of the more prolific writers on the island, having published more than 15 novels and books of short stories, and two books of critical essays, as well as numerous anthologies of science fiction and fantasy short stories . . . As someone who has made his living as a writer since 1988, when his novel Timshel won Cuba's David Prize for first-time authors, he has been a keen observer of Cuban society (and its literature) for almost three decades . . . Yoss's more recent novel imagines a world in which Earth is just one part of a dynamic, complicated universe, in which interplanetary love and understanding exists, and in which even an unknown large animal vet can resolve an intergalactic political crisis. In short, it dares us to hope for a universe in which all things (super extra) large and small can find their place."

—Emily Maguire, Los Angeles Review of Books

"Get ready to enter the world of the fantastic, phenomenal and downright freaky. If you like huge space monsters, faster-than-light travel, erotic six-breasted aliens with strange reproductive habits, atomic blasts, gastrointestinal diseases and interplanetary warfare, then this is the book for you . . . It sounds crazy doesn't it? And it really is. This book is utterly unlike any other sci-fi novel you will have read before . . . The marvelous thing with writing about the future is you can really let your imagination run wild and Yoss certainly decided take full advantage of this poetic license."

—Jade Fell, Engineering & Technology Magazine
Restless Books, 9781632060563, 156pp.
Publication Date: June 7, 2016
About the Author
Born José Miguel Sánchez Gómez, Yoss assumed his pen name in 1988, when he won the Premio David in the science fiction category for Timshel. Together with his peculiar pseudonym, the author's aesthetic of an impentinent rocker has allowed him to stand out amongst his fellow Cuban writers. Earning a degree in Biology in 1991, he went on to graduate from the first ever course on Narrative Techniques at the Onelio Jorge Cardoso Center of Literary Training, in the year 1999. Today, Yoss writes both realistic and science fiction works. Alongside these novels, the author produces essays, reviews, and compilations, and actively promotes the Cuban science fiction literary workshops, Espiral and Espacio Abierto.

When he isn't translating, David Frye teaches Latin American culture and society at the University of Michigan. Translations include First New Chronicle and Good Government by Guaman Poma de Ayala (Peru, 1615); The Mangy Parrot by José Joaquín Fernandez de Lizardi (Mexico, 1816), for which he received a National Endowment for the Arts Fellowship; Writing Across Cultures: Narrative Transculturation in Latin America by Ángel Rama (Uruguay, 1982); and several Cuban and Spanish novels and poems.