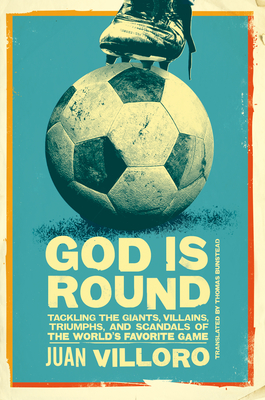 God is Round (Paperback)
Restless Books, 9781632060587, 256pp.
Publication Date: April 19, 2016
* Individual store prices may vary.
Description
A brilliant, kaleidoscopic exploration of soccer—and the passion, hopes, rivalries, superstitions, and global solidarity it inspires—from Juan Villoro, "Mexico's top fútbol expert" (NBC News).

On a planet where FIFA has more members than the United Nations and the World Cup is watched by more than three billion people, football is more than just a game. As revered author Juan Villoro argues in this passionate and compulsively readable tribute to the world's favorite sport, football may be the most effective catalyst for panglobal unity at the time when we need it most. (Following global consensus, Villoro uses "football" rather than "soccer" in the book.)

What was the greatest goal of all time? Why do the Hungarians have a more philosophical sense of defeat than the Mexicans? Do the dead play football? In essays ranging from incisive and irreverent portraits of Maradona, Messi, Ronaldo, Pelé, Zidane, and many more giants of the game to entertaining explorations of left-footedness and the number 10, Juan Villoro dissects the pleasure and pain of football fandom. God Is Round is a book for both fanatics and neophytes who long to feel the delirium of the faithful.
About the Author
Juan Villoro is Mexico's most prolific, prize-winning author, playwright, journalist, and screenwriter. His books have been translated into multiple languages. Several of his books have appeared in English, including his celebrated 2016 essay collection on soccer brought out by Restless Books, God Is Round. Villoro lives in Mexico City and is a visiting lecturer at Yale and Princeton universities.
Praise For God is Round…
"The best football writer you've never heard of…. Juan Villoro, Mexico's foremost man of letters, captures the beautiful game to perfection…. Juan Villoro is one of Mexico's foremost men of letters. A renowned novelist, short-story writer and translator into Spanish of authors as diverse as Graham Greene, Goethe and Truman Capote, Villoro has shown... his Borgesian range of being as at home with D.H. Lawrence and W.B. Yeats as he is with the Hispanic canon. Unlike Borges, who loathed the game, Villoro is also one of the best writers on football in the world. Early on in this remarkable collection of essays, Villoro sets out his stall as a writer of sport…. Villoro is as adept on the vagaries of the game as he is in his psychoanalysis of its players. His essay on Diego Armando Maradona — with the Tolstoyan title 'Life, Death, Resurrection and a Little More Besides' — is a masterful portrait of the game's greatest player…. In successfully marrying his love of literature and football, Villoro has demonstrated the first principle of sports writing, or any good writing for that matter."

—Andreas Campomar, The Spectator

"God is Round is a beautifully written exploration of some of football's biggest stars … as well as a deep dive into more irreverent topics…. a book that's less about sport and more about people's connection to it."

—NBC Sports' Men in Blazers

"In these lyrical essays about the beautiful game — the one we call soccer and everyone else calls football — Villoro mines the psychological and emotional depths of what the sport represents, and what it means, and feels like, to be a fan. Many of these pieces center on the way sports can evoke a state of childlike wonder, blending our joy of play with our deepest associations with our parents, our neighborhood, our city…. Strange and soulful as the game itself, Villoro's pieces will send many readers to Wikipedia to check out key plays and legendary players... [The book] captures something ineffable about what it means to love a team and a sport. This makes Villoro's scathing takedown of soccer's governing body even more poignant."

—Kate Tuttle, The Boston Globe

"Mexico's answer to Bill Bryson, Villoro has spent his life watching football. This collection of essays range from straighter profiles of Diego Maradona and Lionel Messi to touching odes to fandom. His description of Savo Milosevic holding court at the Bernabeu for Osasuna is worth the price of the book alone."

—FourFourTwo (four stars)

"[God Is Round is] a fascinating look at the big characters and funny details from the world of soccer . . . A literary hero of mine . . . [He's in the] top three soccer writers for me . . . [God Is Round is] an unbelievably outstanding collection of essays about soccer . . . It's like seeing the game with new eyes."

—George Quraishi, Howler

"It came as welcome news that the formidable writer and thinker Juan Villoro would have one of his soccer texts, God Is Round, published in the United States…. Villoro's book is made up of, to borrow a soccer and literary term, set pieces… in Villoro's hands, or, rather, at his feet, it's often delightful."

—Michael J. Agovino, Los Angeles Review of Books

"A lyrical exploration of the global game of soccer. In the most prosaic sense, Villoro is a Mexican journalist and professor of literature. But when he writes about soccer, these job titles are insufficient. When tackling the beautiful game, the author is a poet and a critic, a philosopher and a historian, a keen observer and a devoted fan . . . Whether he is producing a "diatribe" aimed at Portugal and Real Madrid narcissist Cristiano Ronaldo or a celebration of Argentina and Barcelona's Lionel Messi; trying to understand the egomaniacal enigma who is Diego Maradona; or listing his favorite players who wore No. 10 jerseys, Villoro brings some memorable line, some delightful turn of phrase, some inescapable image to every page. Readers will be reminded of a similar stylist, Eduardo Galeano, whose Soccer in Sun and Shadow has always represented the literary apogee of writing about soccer . . . For millions around the world, soccer is not just a game, but rather life itself and, as Villoro ably reveals, very much worth pursuing to the final whistle."

—Kirkus Reviews, Starred Review

"The most anticipated football title of 2016.... [Villoro] is the perfect person for this title.... God Is Round is real literature, not just another book about football. Villoro's words are like poetry, rich and full of meaning.... God Is Round is certainly on par with David Goldblatt's The Ball Is Round: A Global History of Soccer and Eduard Galeano's Soccer in Sun and Shadow, arguably the finest football titles ever written. If you can only purchase one book this year, it has to be God Is Round. Football fans and those that enjoy great literature will be equally enthralled with this one."

—International Soccer Network

"If you want to talk about soccer, go talk to Juan Villoro."

—Carlos Fuentes

"Villoro manages to bring some of that magic back into relief—to make it strange and new again. There are countless experts who can rattle off Luis Ronaldo's career stats, but this won't capture the player's haphazard and bizarrely successful style anywhere near as well as Villoro's description…. But God Is Round's real value lies not in its ideas but in the approach Villoro takes to soccer writing.... By marshaling his imagination and linguistic resources, Villoro is able to resuscitate the rich childhood fascination that originally got us praying to the "weekend god." This is the goal of most expressions of fandom, but only writing as good as Villoro's can actually accomplish the feat."

—Ratik Asokan, Bookforum

"Reading God Is Round will make fans of soccer and good writing alike wonder how they appreciated either before they read Villoro's insightful, critical, and ultimately hopeful take on the world's game.... God Is Round is not only an indispensable companion to international soccer but also a fine introduction of US readers to an award-winning Mexican author whose talent and skill demand that more of his work—novels, short stories, essays, and chronicles—be translated into English."

—Ryan Long, World Literature Today

"In trying times like these, when the anguish and uncertainty can be almost too much to bear, Mexico turns to him, its philosopher-fanatic, to make sense of the seemingly nonsensical.... Juan Villoro, one of Mexico's most decorated and esteemed writers — who also happens to be a leading soccer analyst—comes charging down the metaphorical field to scold, explain and extract the lessons within."

—Randal C. Archibold, The New York Times

"[Villoro] has assumed the Octavio Paz mantle of Mexican public wise man of letters (though with none of Paz's solemnity, for Villoro is as boyishly effusive, brimming with laughter and cleverness, as Paz was paternalistically dour—and, of course, Villoro, the author of the book God Is Round, may be the most fútbol-obsessed man alive)"

—Francisco Goldman, The New Yorker