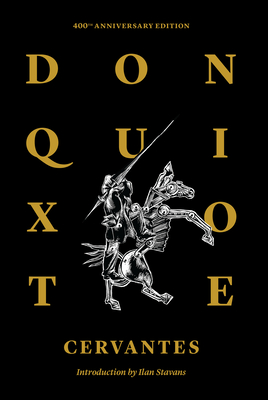 Don Quixote of La Mancha (Restless Classics) (Paperback)
Restless Books, 9781632060754, 960pp.
Publication Date: October 6, 2015
* Individual store prices may vary.
Description
Newly introduced by leading Quixote scholar Ilan Stavans, this 400th Anniversary edition of Don Quixote of La Mancha—called the most popular book in history after the Bible and the first modern novel—inaugurates Restless Classics: interactive encounters with great books and inspired teachers. Each Restless Classic is beautifully designed with original artwork, a new introduction for the trade audience, and a video teaching series and live online book club discussions led by passionate experts.

Described as "the novel that invented modernity," Miguel de Cervantes's Don Quixote of La Mancha has become since its publication in Spain in two parts—the first in 1605, the second in 1615—a machine of meaning, endlessly adapted into ballet, theater, dance, film, music, and television, not to mention a veritable tourist industry.
Lionel Trilling argued that "all prose fiction is a variation on the theme of Don Quixote." Mark Twain was a passionate fan. Flaubert modeled Madame Bovary after it. Dostoyevsky reimagined its protagonist in The Idiot. And Borges, in his story about Pierre Menard, looked at it as the gravitational center of Hispanic civilization. Milan Kundera fittingly summarized this unstoppable devotion when he said that "Cervantes teaches the reader to comprehend the world as a question."
Of course, Don Quixote has its detractors, too. Nabokov, for instance, maintained it was one of the cruelest narratives ever. Still, after 400 years, the book remains with us, winding improbably through history like the famous errant knight and his companion, Sancho Panza.
The commemorative Restless Classics edition, published on the four-hundredth anniversary of its full release, features John Ormsby's canonical English translation, illustrations by award-winning Mexican artist Eko, and an insightful, thought-provoking introduction by Ilan Stavans, one of the foremost public intellectuals today. Don Quixote, Stavans writes, is "not only a novel but a manual of life. You'll find in it anything you need, from lessons on how to speak and eat and love to an exhortation of a disciplined, focused life, an argument against censorship, and a call to make lasting friends, which, in Cervantes's words, is 'what makes bearable our long journey from birth to death'."
The volume includes access to an interactive series of video lectures by Stavans, available online at restlessbooks.com/quixote. The videos serve as map to this restless classic, which speaks more eloquently than ever to our perennial desire to sacrifice for a dream in order to see its true worth.
About the Author
Miguel de Cervantes Saavedra, Spain's greatest literary figure, was born in Alcalá de Henares, a small town near Madrid, on October 9, 1547. He served as a soldier in the Spanish army, fighting in the Battle of Lepanto, where he received serious wounds and lost the use of his left hand. He was captured by Barbary pirates on a return journey to Spain from Italy in 1575 and spent five years imprisoned in Algiers. After his release, he worked as a government official and wrote plays, poetry, and fiction. The first part of Don Quixote of La Mancha was published in 1605, to immediate success, and the second part in 1615. He died in Madrid on April 23, 1616.

Ilan Stavans is the publisher of Restless Books and Lewis-Sebring Professor in Latin American and Latino Culture at Amherst College. His books include, most recently, Reclaiming Travel (Duke, co-written with Joshua Ellison) and Quixote: The Novel and the World (Norton).

British translator John Ormsby (1829-1895) was most famous for his 1885 translation of Miguel de Cervantes' Don Quixote de la Mancha, perhaps the most thorough and accurate English translation of the novel up to that time. His translation went through more editions than any other nineteenth-century version of the novel and was the first English version of the book to appear complete on the Internet. In his introduction, Ormsby scrutinized every previous major English version of Don Quixote and offered a controversial analysis of the work, critiquing Cervantes' writing style and refuting the commonly held view that Don Quixote is an innately noble character.
Praise For Don Quixote of La Mancha (Restless Classics)…
"Restless Books has just published a handsome new edition of the Ormsby translation with an introduction by Ilan Stavans, the press's publisher. Stavans . . . maps the book's truly astonishing impact on culture, literature, drama, film, and art. Stavans is perfectly suited to hosting this tribute."

—Huffington Post Latino Voices

"Such a classic can also, by its very eminence, seem unapproachable and intimidating. If this describes your feeling, then this new edition published by Restless Books could be the one to change your mind . . . This edition comes with some wonderful helps for you to begin to realize why Don Quixote has had such staying power. The story itself is actually very funny, full of biting wit, sarcasm and satire, with nothing left unskewered . . . In addition to an extremely helpful new introduction by prominent Quixote scholar Ilan Stavans, Restless Books has also made several videos, available online, that are flagged in the text and that help explain the themes of the section; they also have an online book group that will have live participation and will then be archived for future reference. Another interesting element in this edition is the uncanny artwork by the artist Eko, which brilliantly fuses both 'realities' experienced by the characters . . . Don Quixote of La Mancha well deserves its reputation and its pedestal, and will richly reward readers each time they visit it; this new edition, with its many helpful guides, is a wonderful gateway into the treasures of this classic text."

—San Diego Book Review (Five-Star Review)

"Beautiful."

—Literary Hub

"A beautiful edition."

—Jonathan Sturgeon, Flavorwire
or
Not Currently Available for Direct Purchase