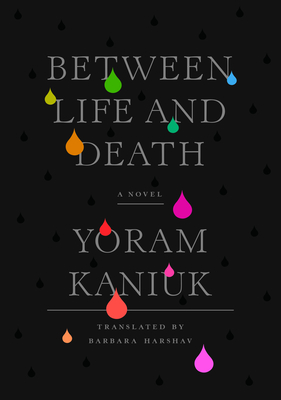 Between Life and Death (Hardcover)
Restless Books, 9781632060921, 222pp.
Publication Date: September 13, 2016
* Individual store prices may vary.
Description
The final literary testament of "one of the most innovative, brilliant novelists in the Western World" (New York Times), Between Life and Death is a startlingly brave, funny, poetic, and moving autobiographical novel about the four months Yoram Kaniuk spent in a coma near the end of his life.

In Between Life and Death, famed Israeli writer Yoram Kaniuk describes the four months during which he lay unconscious in a Tel Aviv hospital, hovering between the world of the living and that of the dead. Told in an arresting, dreamlike style that blends playfulness with fearless honesty, Kaniuk attempts to penetrate his own lost consciousness and understand what led him to fight for his life with such tenacity.

Shifting between memory and illusion, imagination and testimony, Kaniuk inquires into the place of death in society, the lust for life, and the force of human relationships. He also writes movingly about the Holocaust survivors of his childhood neighborhood, and the battles of the 1948 War of Independence, in which he fought. Full of renewed vitality at the age of seventy-four, Kaniuk announced his rebirth in Between Life and Death, and left us a treasure of world literature that is sure to become a classic.
About the Author
Yoram Kaniuk (1930–2013) was born in Tel Aviv and took part in Israel's War of Independence in 1948. A painter, journalist, and theater critic, he was best known as a novelist. His 29 books include The Acrophile (1960), Himmo, King of Jerusalem (1968), Adam Resurrected (1971), Rockinghorse (1977), Confessions of a Good Arab (1984), His Daughter (1987), Commander of the Exodus (1999), The Last Jew (2006), 1948 (2010) and Between Life and Death, and have been translated into twenty languages. He won the Bialik Prize, the French Prix de Droits de l'Homme, the Israeli President's Prize, the Newman Prize and the Sapir Prize for Literature.

Barbara Harshav has been translating works from French, German, Hebrew and Yiddish for over twenty years and has currently published over forty books of translation including works of poetry, drama, fiction, philosophy, economics, sociology, and history.
Praise For Between Life and Death…
"Yoram Kaniuk is one of the most innovative, brilliant novelists in the Western World."

— The New York Times

"One of Israel's greatest and least celebrated writers"

— Nicole Krauss

"Of the novelists I have discovered in translation . . . the three for whom I have the greatest admiration are Gabriel Garcia Marquez, Peter Handke, and Yoram Kaniuk."

— Susan Sontag

"It's a shame that this recently deceased multi-award-winning Israeli author isn't as well known here as, say, Amos Oz or A.B. Yehoshua, because as evidenced by this final novel he was a prose master. Written after he awoke from a four-month-long coma, it fictionalizes that experience in surprisingly absorbing detail. Unpitying, observational, and fiercely flowing, the clinical account of the protagonist's hospitalization feels almost like a beautiful ballet, but what really makes it work is that it's interwoven sentence by sentence with near hallucinatory memories of the speaker's life in Palestine and then Israel. (Kaniuk himself was born in Tel Aviv in 1930 and fought in the War of Independence.) The result is both a rich tapestry of a life gone by and a contemporary appreciation of a near-death experience. How did Kaniuk manage it? 'Maybe because I grew up woven in that sea and the melody was in me,' says his alter ego at one point, fittingly." VERDICT Captivating for many readers."

—Barbara Hoffert, Library Journal

"Classic . . . Kaniuk's book joins a strange genre of books about experiences from inside diseases, such as Over My Head by Claudia L Osborn. But Between Life and Death shares more with The Diving Bell and the Butterfly by Jean-Dominique Bauby, and both share the intensely personal and yet fascinatingly general experience of those who've been incapacitated by disease . . . Harshav's translation is . . . excellent. And it elegantly brings forth both Kaniuk's peculiarly beautiful style and the Israeli culture and life that he both disdained and loved."

—Ilana Masad, The Guardian

"In the highly regarded Israeli writer's final work—he died in 2013—Kaniuk has crafted a dreamlike, autobiographical novel describing the four months he spent comatose in a Tel Aviv hospital, somewhere between the worlds of the living and the dead. A mix of memory, illusion and imagination, the writing shifts from recollection of a childhood spent among Holocaust survivors to a retelling of the 1948 War of Independence to a reflection on what it means to die. Originally published in Israel in 2007, Between Life and Death now has a chance to entrance American readers thanks to Harshav's faithful and lyrical English translation."

— Victor Wishna, Jewish Telegraphic Agency

"Yoram Kaniuk, who passed away in 2013, was for a long time the enfant terrible of a generation of Israeli writers that included Amos Oz, A. B. Yehoshua, and David Grossman. Less known to American readers than he deserves, Kaniuk is a strange and orthogonal writer, never lining up with the pieties his audience might be expected to harbor . . . [Between Life and Death], published by Restless Books and ably translated by Barbara Harshav, takes as its subject Kaniuk's four-month near-death interlude in a Tel Aviv hospital . . . The book's style embodies this 'betweeness,' proceeding with the associative logic of an anesthetic rather than an authorial consciousness. Kaniuk is in his head and out of his body, often at the same time . . . There is something undeniably admirable in the work to turn suffering into art. The final words of Kaniuk's epilogue constitute a goodbye, rather than a see you later: 'And now, as an old man with cancer and a hernia and a destroyed belly, I leave you.' We are poorer for Kaniuk's final exit, and reminded that the time between life and death is a wisp of a shadow that passes in the blink of an eye."

—Ari Hoffman, Jewish Book Council
or
Not Currently Available for Direct Purchase